Economic Vibrancy Comparison/Report: The Cincinnati Region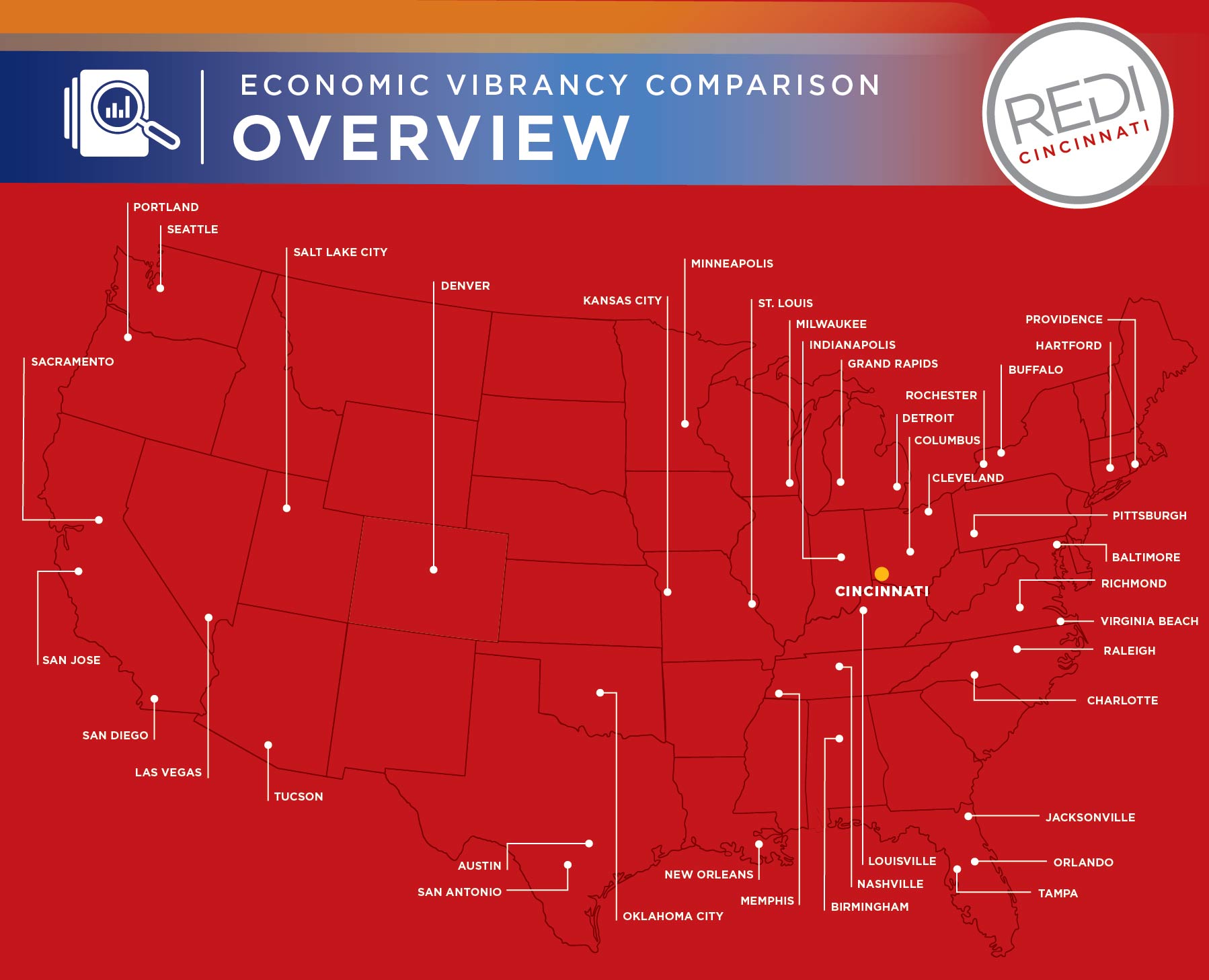 As concerns over the Covid-19 pandemic began to subside in mid-to-late 2021, questions surrounding the pandemic's impact on economic vibrancy and the subsequent recovery began to arise throughout the economic development industry.
"When economic data from both the pandemic and post-pandemic time frames began to be released the realization that REDI Cincinnati needed to benchmark the Cincinnati region's 'pre-covid' economy to the ongoing recovery quickly became evident," said Rosa Christophel, manager of research, REDI Cincinnati. "This benchmarking included traditional markers of economic growth such as gross domestic product (GDP), labor and wages, but it also encompassed socioeconomic issues and indicators that experienced heightened awareness during the shutdown, all of which impact economic vibrancy and growth."
REDI's research team, including Christophel and fellow research manager Jennifer Thomas, constructed a framework to benchmark the economic data within six strategic areas used to measure economic vibrancy—growth, talent, innovation, housing, prosperity and inclusivity—across Cincinnati and 39 other major metropolitan areas of similar size. The team then partnered with EY to prepare the comparison.
"This report provides a comparison to similar-sized metropolitans, 39 peer MSAs ranging in population from 1-4.5 million, with Cincinnati being the median at 2.2 million," said Thomas. "We're now able to look at this on an annual basis to identify trends and determine the efficacy of our work.
"The benchmarking project conducted by our research team in collaboration with EY establishes the baseline with which we will gauge the Cincinnati region's vibrancy," said Kimm Lauterbach, president and CEO, REDI Cincinnati. "For those familiar with our region, the results are not surprising. Cincinnati excelled in some aspects, saw areas for improvement in others and ranked in the middle elsewhere. But perhaps the biggest takeaway from the comparison is further confirmation of the economic diversity of the Cincinnati region, which consistently ranks among the top 1% of Moody's most diverse metros."
Consequently, the Cincinnati MSA generally falls in the middle of any singular metric for industry and economic concentration. However, this incredibly diverse economic ecosystem also means the region is not reliant on any one industry, insulating the tri-state from the extreme effects of downturns and aiding in a quick rebound.
This blog serves as the introduction for a series of six additional posts sharing the results of the economic comparison with Christophel and Thomas diving into each of the six strategic areas and the data points forming the basis of the report. Over the next six months, REDI will share data, insights derived from the comparison, on-going stories connected to increasing the economy vibrancy of the region and how our home-grown collective efforts continue to shape our region as an amazing place to do business and live.