Economic Vibrancy Comparison/Report: Innovation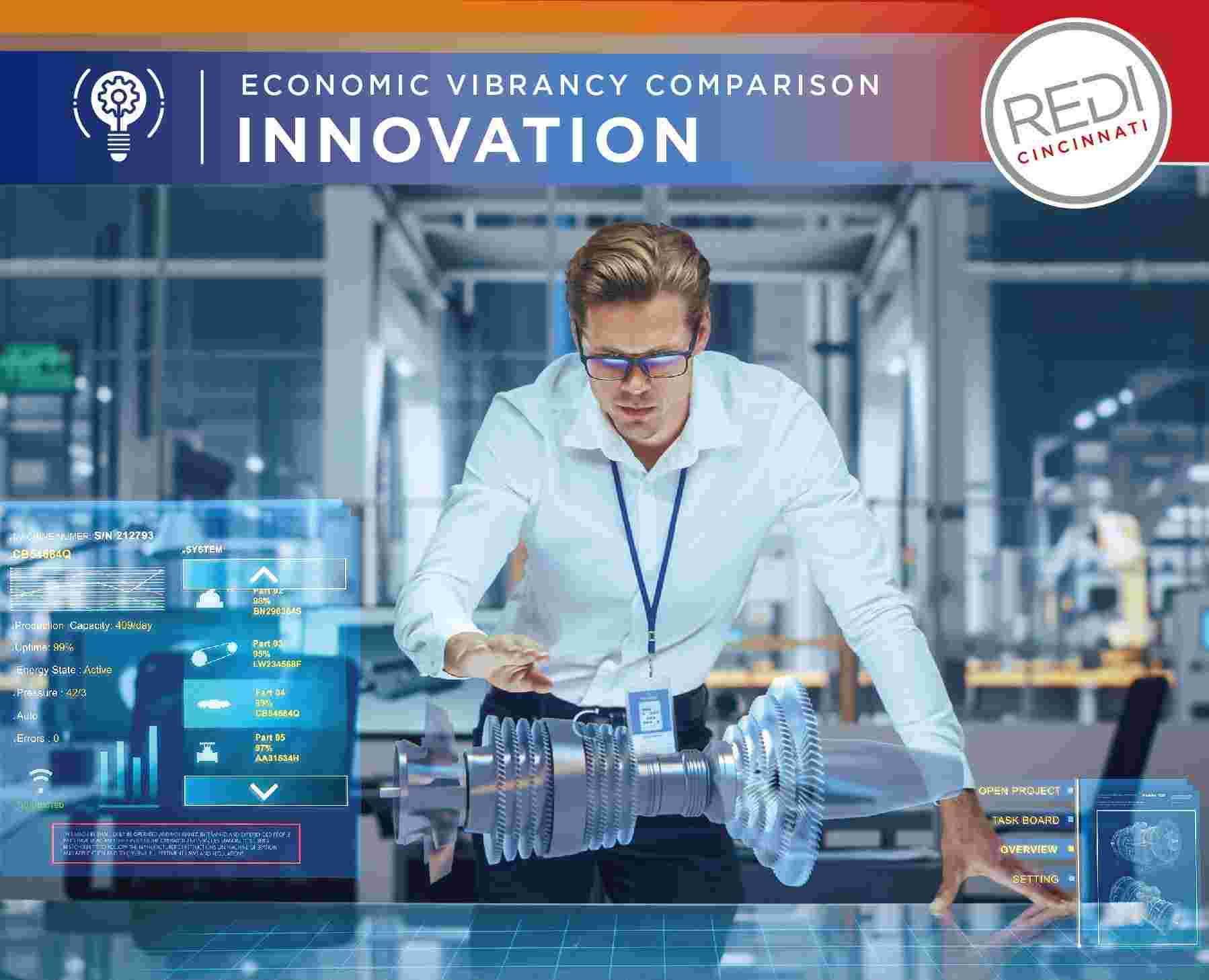 By REDI Cincinnati Research Department, with contributions from Bryan McEldowney, Rosa Christophel and Rodney Wilson
This is the third of a six-part series examining an economic comparison report led by REDI Cincinnati's research team. The comparison benchmarked Cincinnati in six strategic areas—growth, talent, innovation, housing, prosperity, and inclusivity—against 39 peer MSAs ranging from 1-4.5 million people. In this first edition, Growth, or general economic indicators of vibrancy, will be examined.
Read the series:
Innovation
Inclusivity
Talent
Prosperity
Please note that each of the areas examined in this blog series considers data from different time periods. The data used in this report is made publicly available at both different points in time and at varying intervals. For transparency, the time frames are noted in parentheses in each sections' headline.
Innovation Defines a Region's Economic Future (Data reported between 2017-22)
Data factors such as employment and housing accessibility provide a comprehensive look at a region's economic health in the here and now. But one data set in particular can provide us with a glimpse at a region's performance potential for the future: innovation.
When people think of hubs for innovation, the Queen City might not immediately spring to mind. The Midwest is no Silicon Valley, and nobody ever confused Cincinnati for San Diego or San Jose. But the world owes much to our humble river city for its many inventions, including the first heart-lung machine, Play-Doh, Ivory soap and much more.
Cincinnati remains committed to innovation, too, achieving benchmarks today that will determine the future of our region, with a number of notable technology companies, major tech employers, R&D hubs, educational pipelines and more innovation indicators.
Technology Employment (Data points in report from 2022 Q2)
Comparing Cincinnati's tech employment data against other MSAs provides a somewhat misleading picture. Among the 40 regions we examined, our city did rank in the bottom 50 percent at 27, with only 2 percent of our region's employment being in the technology sector. Furthermore, only 3 percent of Cincinnati workers are employed in computer and math positions. And with a thriving advanced manufacturing industry that garnered our region success during a time when goods were beginning to be created by machine, rather than by hand, it's no wonder that some of our most concentrated roles are in production, industrial engineering and supporting manufacturing roles."
But even with our current ranking in mind, our region's growth in the area of technology employment is hard to beat. Between 2017 and 2022, our region saw a 16 percent increase in technology employment, growth that outpaced other Midwest metros such as Columbus and Indianapolis. The region has grown significantly in roles like software development (55%) and engineering technology (19%), surpassing growth in San Jose (12% and 3%, respectively) and San Diego (17% and 7%, respectively) during the same time frame. And this marked improvement is, no doubt, due to a commitment to developing innovative talent within robust educational programs.
 Building The Future Today (Data points in report from 2021 Q4 & 2022 Q2)
While recent technology employment data shows an impressive increase in the Cincinnati region, building tomorrow takes strong investment today—and our area's educational institutions are more than up to the task of training future disruptors, with a 123 percent increase in Computer and Information Sciences and Support Services program completion rates between 2011 and 2021.
But colleges and universities are more than just job training centers, with massive R&D capabilities housed and developed within academia. Here in the Cincinnati region, places of higher learning manage more than half a billion dollars in R&D expenditures, earning our MSA a 22nd-place ranking on a per-capita basis. And this historic commitment to innovation is only growing, with a nearly 19 percent increase in funds seen between 2015 and 2020.
NKU's College of Informatics and UC's 1819 Innovation Hub are major academic engines behind the innovation push in Cincinnati. UC also powers the Cincinnati Innovation District, our region's center for future-facing research and talent. Housing such innovation anchors as Cincinnati Children's Hospital Medical Center, the EPA and UC's Digital Futures facility, the powerhouse innovation district is poised to develop and support innovations sure to change the world.
Funding the Future (Data points in report from 2022 Q2)
Innovation potential hinges on intelligent minds generating world-changing ideas—but economic support is critical to seeing these ideas reach full development. And the news is good for Cincinnati on the topic of venture funding, with a more than 50 percent increase in the past five years. While it's true that most of the other MSAs examined enjoyed a greater increase in funding during this period, the past three years saw in-region companies receive an average of $300 million in venture capital funding annually—a change that lands Cincinnati in the top half of all MSAs compared.
And the quality of our venture capital funding is remarkable, too, with Lightship Capital notably investing in remarkable businesses led by founders of color, LBGTQ+, women and innovators with disabilities—empowering, uplifting and catalyzing wealth-building for underrepresented innovators.
Proof in the Patents … and the Accolades (Data points in report from 2022 Q2)
Perhaps nothing proves a region's innovation strength more than the patents it produces, and Cincinnati is demonstrably a leader in this area, with a top 10 ranking in the 40 regions we examined. Our region produced, on a per capita basis, nearly seven patents for every 10,000 residents in 2020, a statistic that followed a more than 42 percent increase over the preceding five years.
With that much innovative disruption, you'd expect a wealth of recognition and accolades—which Cincinnati has indeed received. WalletHub, for instance, ranked our region 11 out of 100 on its Best Places for STEM Professionals list. Zillow, too, gave Cincinnati high marks as a top 10 market for future market growth. SmartAsset ranked us the ninth-best City for Women in Tech in 2022, and Cincinnati's pandemic performance drew praise from LinkedIn, who ranked us in the top 10 cities where tech strength defied the pandemic.
Built on a proud history and enjoying unprecedented economic success today, Cincinnati is poised for a robust, innovative future.