Economic Vibrancy Comparison/Report: Inclusivity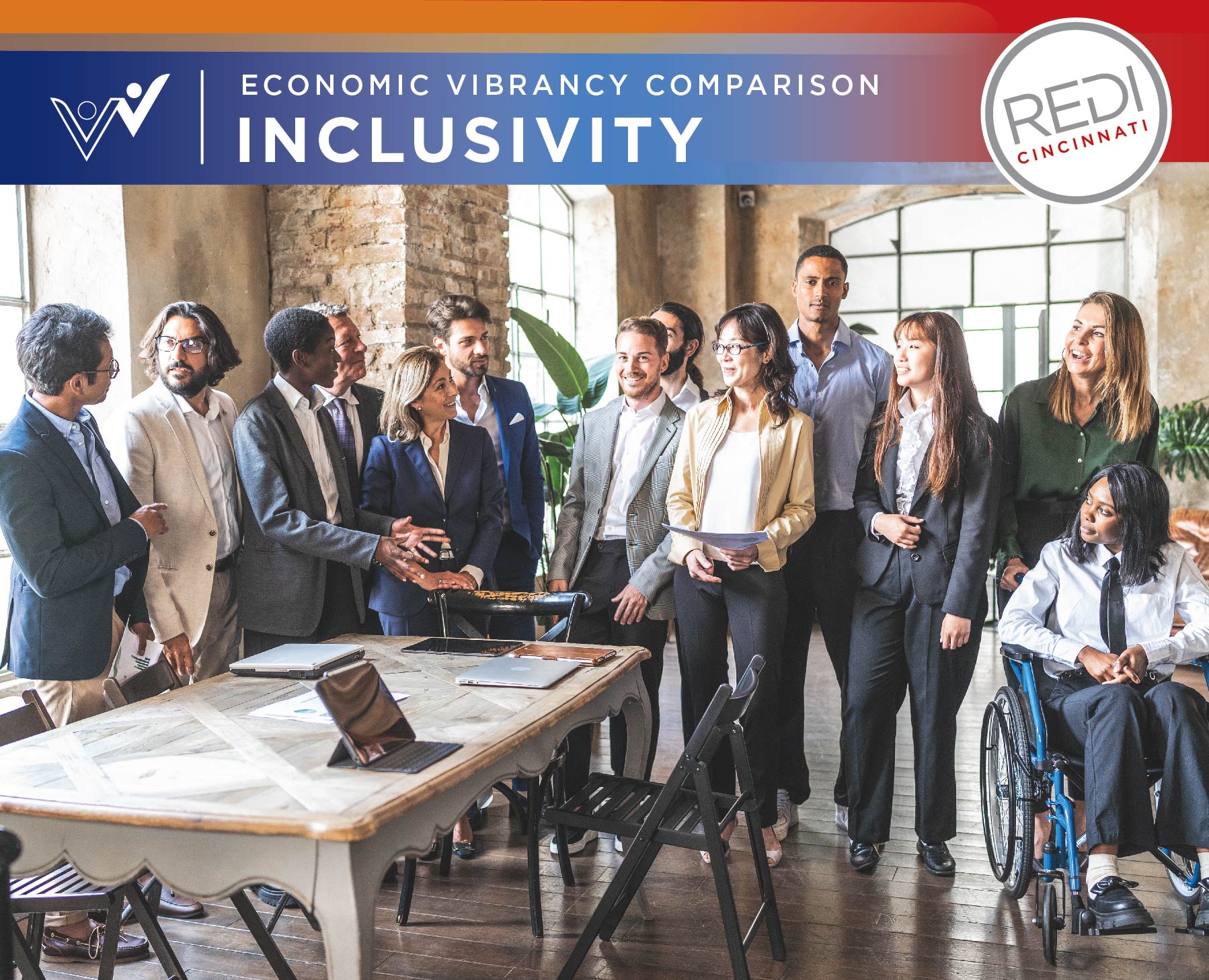 This is the fourth of a six-part series examining an economic comparison report led by REDI Cincinnati's research team. The comparison benchmarked Cincinnati in six strategic areas—growth, talent, innovation, housing, prosperity, and inclusivity—against 39 peer MSAs ranging from 1-4.5 million people. In this first edition, Growth, or general economic indicators of vibrancy, will be examined.
Read the series:
Inclusivity
Talent
Prosperity
Please note that each of the areas examined in this blog series considers data from different time periods. The data used in this report is made publicly available at both different points in time and at varying intervals. For transparency, the time frames are noted in parentheses in each sections' headline.
Inclusion Is a Benchmark for Regional Success
As we look at the factors present in a vibrant regional economy, inclusivity is a key metric for determining both regional economic health and potential for a bright, prosperous tomorrow.
Why? The answer is clear: A region can't be considered successful until each one of its citizens—regardless of race, sex, gender, physical capabilities or identity—has an unobstructed path to prosperity and a high quality of life. Business entities are well aware of the importance of a region's inclusivity, evidenced by the four-fold increase in requests for diversity, equity and inclusion (DEI) data submitted to REDI Cincinnati between 2019 and 2022.
The good news for Cincinnati is that, in some areas, our region performs better in terms of inclusivity than many of the metros we compared against. The bad news? We've still have a lot of work to do in the face of systemic disparity and ingrained biases.
Where the Region Thrives (Data points in report from 2022 Q2)
For starters, the Cincinnati region is a notably diverse place to live and work. In 2022, Niche noted that our city was among the top 88 percent of most diverse cities in America and ranked the Queen City No. 21 among 728 places to live in Ohio in terms of diversity.
And our region serves underrepresented populations well in several areas boasting a relatively high share of non-white workers in management positions across our economy. With 8 percent of non-white workers in our region employed in management roles, Cincinnati falls comfortably in the top 50 percent of all the regions examined.
Educational disparity at the bachelor's level and above are less pronounced in our region compared to the other MSAs we studied, too, with a 78 percent comparison rate between non-white and white residents holding college degrees. In this metric, Cincinnati falls within the top quarter of the regions.
While it's difficult to pinpoint exactly what serves a region's DEI characteristics, we find that a handful of factors drive Cincinnati's increase in minority populations:
Housing Affordability: While our city has seen a drastic increase in housing costs alongside a national rise in residency costs, Cincinnati makes affordable housing a priority as it pursues economic success.
Public Transportation: Cincinnati has expanded public transportation offerings in recent years via a handful of targeted programs to ensure affordable, reliable job transportation, including downtown's free Cincinnati Connector streetcar, a Metro Now option serving outlying areas and Metro's in-development Rapid Bus Transit system.
Cultural Celebration: From cultural events like Asian Food Fest, Cincy-Cinco and Cincinnati Music Festival, to professional investment and development programs across various communities, Cincinnati highlights and supports its cultural diversity.
Welcoming Networks: Numerous organizations across our region welcome and highlight underrepresented populations, including Camp Washington's Welcome Project and Wave Pool, which empowers and connects Cincinnati's refugee and immigrant population through art and food. And Black Tech Week, which highlights inclusivity in the tech workspace, is just one of the local programs connecting professional communities.
Opportunities for Advancement (Data points in report from 2019)
Cincinnati fared well in some areas of our inclusivity report, but systemic disadvantages are a real problem across our society, and Cincinnati is not immune to the country's persistent ingrained disparities.
One major point in need of improvement is median female earnings as a share of median male earnings—put simply, women in Cincinnati earn an average of 30 percent less than male workers in our region. This disparity, although in line with overall national data for wage disparity, is greater than in most regions included in this study, with Cincinnati languishing in the lower quarter.
A second concerning point for Cincinnati is one we grapple with nationally: income inequality. While 20 percent of the region's residents earn more than $230,000 annually, the bottom 20 percent of earners bring home less than $15,000 a year, a more pronounced income disparity than that of most regions we studied. And among those living in poverty in Cincinnati, the non-white to white ratio is 3:1—a disparity that not only exceeds most other MSAs in our study but also grew worse in recent years.
Collaboration to Elevate the Region
Various regional initiatives and organizations are actively engaged in addressing these concerns, including Queens Village, a community dedicated to providing support and assistance to African American mothers through educational programming and networking opportunities. JobsOhio's Inclusion grant program offers support to companies owned by underrepresented populations such as minorities, women, veterans and people with disabilities, as well as businesses operating in distressed communities.
Targeted programs such as JobsOhio's Vibrant Community Program, which enables and encourages the revitalization of distressed communities, are ensuring Cincinnati's economic success is shared equitably among its citizens. Initiatives like this foster growth in employment opportunities, leadership training and other resources to impoverished neighborhoods. In conjunction, numerous local partners and advocates play a vital role in advancing the voices of minority groups. From the Cincinnati USA Regional Chamber's leadership programming to the YWCA Rising Star and the Cincinnati Business Courier's Bizwomen Mentoring Monday programs, the promotion of women and minority leaders has become a significant regional pillar in advancing marginalized voices.
And considering local investment firms, such as Lightship Capital and Cincinnati Minority Business Accelerator, have a stated aim to enable and support businesses led by underrepresented populations, there's a lot of positive momentum for the region's efforts towards building increased diversity in leadership, shrinking disparity and providing economic prosperity for all residents.
These efforts demonstrate the Cincinnati region's commitment to fostering inclusivity by increasing diversity within leadership positions, reducing disparities and generating opportunities for economic prosperity for all residents.