Four regional companies earn James A. Wuenker Growth Awards from REDI Cincinnati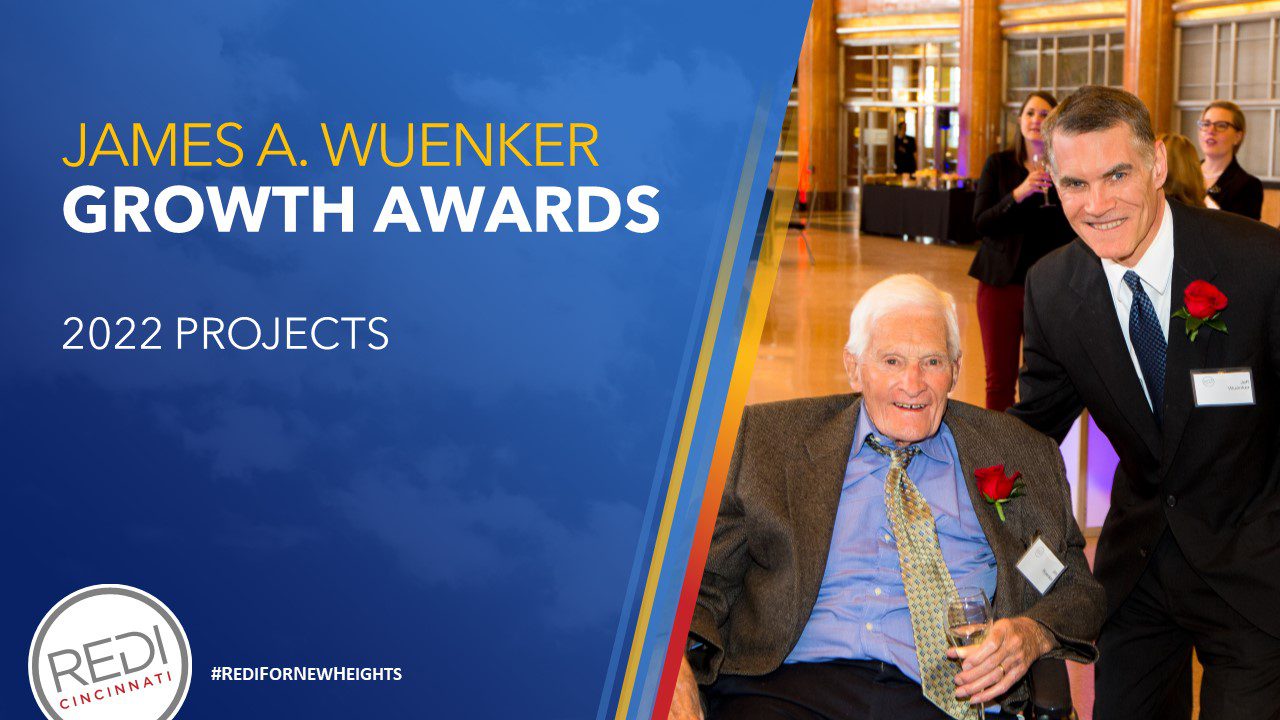 Emerge Manufacturing, Enable Injections, Medpace and Thermo Fisher Scientific were honored with James A. Wuenker Growth Awards, presented annually by REDI Cincinnati in honor of the late James A. Wuenker.
CINCINNATI – March 8, 2023 – REDI Cincinnati recognized four local companies with James A. Wuenker Growth Awards at its annual meeting on Tuesday, March 7. Emerge Manufacturing, Enable Injections, Medpace and Thermo Fisher Scientific received recognition for helping the Cincinnati Region reach new heights through investments made during the 2022 calendar year.
Named in honor of renowned economic developer James A. Wuenker, who helped shape the future of the Cincinnati region through his efforts, the Growth Awards are annually conferred to companies whose projects announced in the previous year significantly enhanced the economic strength of the Cincinnati region.
"The collective impact of Emerge Manufacturing, Enable Injections, Medpace and Thermo Fisher Scientific cannot be overstated," said Kimm Lauterbach, REDI Cincinnati president and CEO. "These four projects account for 2,057 new jobs and more than $340 million in capital investment within the Cincinnati region, and each provides significant contributions to our thriving business climate. The decisions of these companies to grow their businesses here are further proof of a vibrant $171 billion regional economy with an established business ecosystem in place for them to flourish. Thank you to each of the four companies for choosing the Cincinnati region."
James A. Wuenker Growth Award Winner: Emerge Manufacturing
Cynthia Booth, a local entrepreneur and business leader in the Cincinnati region, announced plans in December for the creation of Emerge Manufacturing alongside City of Cincinnati Mayor Aftab Pureval and the City's Department of Community & Economic Development. Booth purchased the site of the former Cincinnati Gardens in Bond Hill from The Port with plans to construct a 50,000-sq.-ft. manufacturing facility.
Through the creation of the $10.2 million manufacturing facility and 100 full-time jobs, Emerge will help meet increased demand for personal protection equipment for hospitals and healthcare facilities, while helping to revitalize the Reading Corridor.
"We are extremely excited to launch Emerge Manufacturing in Cincinnati's Bond Hill/Roselawn community," said Booth, President & CEO, Emerge Manufacturing. "The historic site on which Emerge's headquarters and plant is to be built will allow Emerge to carry out its mission to be an onshore manufacturer of PPE products that protect and save lives. Furthermore, Emerge will provide 100 well-paying jobs and benefits to those who live in the surrounding communities. We are also excited about our partnership with Bon Secours Mercy Health and Advantus Health Partners in bringing the facility and its products to market.
"We are extremely appreciative of the support of JOBS Ohio, REDI Cincinnati, the City of Cincinnati, and The Port of Greater Cincinnati Development Authority, all of whom worked closely with Emerge to create this purpose-driven company," Booth added.
James A. Wuenker Growth Award Winner: Enable Injections
The Cincinnati region received a commitment from Enable Injections to infuse 257 new jobs and $19.87 million in payroll by 2027 when the company announced plans to expand in October 2022. Founded in the region in 2010, Enable has continued to grow here with locations in Evendale, West Chester and Franklin. The 257 new jobs will more than double its employment as 193 jobs were retained in the region.
Enable is focused on the development and manufacturing of the enFuse® platform of investigational wearable drug delivery systems to replace intravenous administration. The enFuse is designed to offer patients the flexibility of in-clinic or at-home self-administration. Cincinnati and the Ohio area provide a high quality of living, local and state support of early-stage businesses, and the access to talent that provides Enable a strong base for creating high-tech, high-value jobs through its expansion.
"The Cincinnati area is one of the best places in the country to grow a business because of the talent, quality of education, and health science ecosystem that has developed over the past 30 years. We are honored to be recognized for this award and grateful for the support from the many organizations in the Cincinnati region and state of Ohio," said Mike Hooven, President and CEO of Enable Injections. "We look forward to getting the enFuse into the hands of patients worldwide while continuing to expand and make a positive economic impact here in Cincinnati and the surrounding region."
James A. Wuenker Growth Award Winner: Medpace
Ohio Lieutenant Governor Jon Husted, Pureval, JobsOhio president and CEO J.P. Nauseef and Lauterbach joined Medpace's CEO and president of the board August Troendle and general counsel Steve Ewald at the company's Madisonville headquarters for the announcement of a major expansion that included the creation of 1,500 new jobs with $90 million in associated payroll.
The significant job growth is accompanied by a commitment to invest $150 million to expand operations and office capacity through the addition of 250,000 sq. ft. of office space and 1,000 new parking stalls at its headquarters. The clinical contract research organization will increase employment across a wide variety of disciplines, including a heavy focus on STEM talent with physicians, lab technicians, clinical research associates, data analysts, financial analysts, software engineers, and more.
Medpace's 1,500-job commitment is the second largest in REDI Cincinnati's history, and the largest project for the City of Cincinnati in REDI Cincinnati's history.
"Medpace is excited to continue to expand and grow our Clinical Research Campus in Cincinnati and we appreciate the recognition and support from the City of Cincinnati and REDI on this project," said Jesse Geiger, president, Medpace. "We are looking forward to kicking off the project and adding substantially to our employee base in Cincinnati. Through the meaningful work we do to advance new and better medical treatments, we are able to offer challenging and rewarding roles for a broad range of positions – from the highly technical and specialized to broader business roles."
James A. Wuenker Growth Award Winner: Thermo Fisher Scientific
In October 2022, the PPD clinical research business of Thermo Fisher Scientific Inc. announced plans to create 200 full-time jobs as part of a $59 million expansion of its facility in Highland Heights, Kentucky. The expansion includes renovating its central lab to increase the available space by 60%, bringing the facility to more than 114,000 square feet. The positions created by the expansion will include Ph.D.-level scientists, laboratory staff and other STEM professionals, which will bring total employment to 850 at the location.
The PPD clinical research business, a global leader in clinical research, began operation in Kentucky in 2002 and was acquired by Thermo Fisher Scientific in 2021. Through the expansion, the business will enhance its services to biopharma customers, accelerating drug development through its high-quality lab services.
"We are honored to be recognized by REDI Cincinnati for the expansion of our world-class lab in Highland Heights, which is a key component of our global strategy to provide our customers with high-quality central lab and biomarker services," said Chris Clendening, senior vice president, central lab, PPD clinical research, Thermo Fisher Scientific. "Along with the Cincinnati region, we've found the city of Highland Heights, Campbell County and the state of Kentucky to be very supportive of the life sciences sector and our company. In addition, the area is a great place for our employees to live and work, and we appreciate being part of the community and contributing to the local economy."
About REDI Cincinnati
The Regional Economic Development Initiative (REDI) Cincinnati is the first point-of-contact for companies locating or growing in the 16-county region at the heart of southwest Ohio, northern Kentucky, and southeast Indiana. REDI Cincinnati is supported by top business leaders and community partners and staffed by a team of economic development experts who are uniting the Cincinnati region to compete globally.
The future is bright, and we're building it, right now. Join us at REDICincinnati.com.