Cincinnati Region extends Site Selection magazine's Governor's Cup Awards streak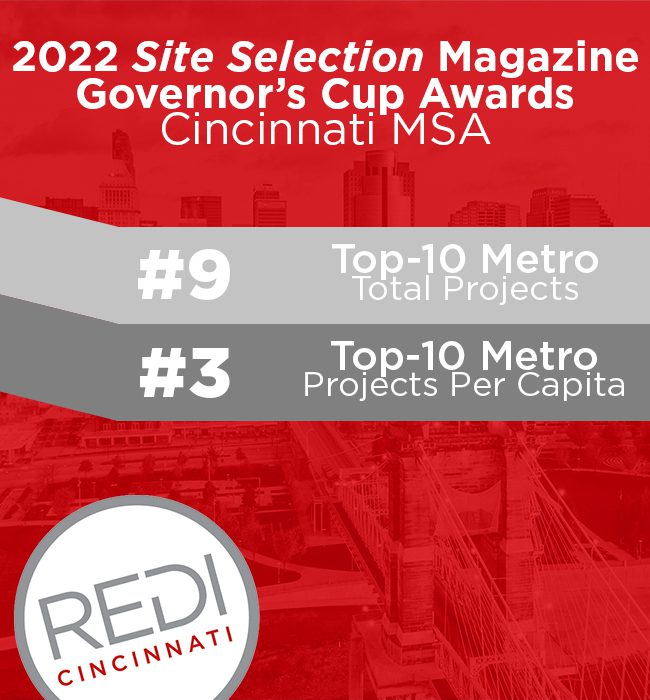 CINCINNATI – March 1, 2023 – For the 20th straight year, Site Selection magazine has recognized the Cincinnati Region as one of its Top-10 Metros for corporate facility investment in multiple categories as part of its 2022 Governor's Cup Awards. Cincinnati ranks ninth in total investment projects with 112, while its per capita ranking elevates the region to the No. 3 metro.
"Our business leaders, elected officials and community partners from around the region continuously align efforts to elevate Cincinnati," said Kimm Lauterbach, REDI Cincinnati president and CEO. "This 20-year sustained recognition in the Governors Cup Awards is the result of the collaboration and hard work of all of those individuals, both past and present, and we thank them for their efforts supporting the Cincinnati region."
Lauterbach continued, "We often discuss how the Cincinnati region punches above its weight class, and a two-decade run among the top-10 metros in the Governor's Cup serves as testimony to the economic and business vibrancy here. While Cincinnati and Austin, Texas, are approximately the same size in terms of population—2.28 million and 2.42 million, respectively—the other eight metros comprising the top 10 are at least 2x larger. As the region's No. 3 per capita ranking illustrates, Cincinnati truly does punch above its weight class."
The tri-state region was well-represented in the state rankings with Ohio, Kentucky and Indiana each appearing in both the total projects and per capita rankings. Ohio, due in part to the support of JobsOhio, its six regional networks—including REDI Cincinnati—and the numerous economic development partners throughout the state, was third in both total and per capita projects. Kentucky was ninth in total but climbed to second in per capita, while Indiana was 10th and eighth, respectively.
About REDI Cincinnati
The Regional Economic Development Initiative (REDI) Cincinnati is the first point-of-contact for companies locating or growing in the 16-county region at the heart of southwest Ohio, northern Kentucky, and southeast Indiana. REDI Cincinnati is supported by top business leaders and community partners and staffed by a team of economic development experts who are uniting the Cincinnati region to compete globally.
The future is bright, and we're building it, right now. Join us at REDICincinnati.com.
About JobsOhio
JobsOhio is a private nonprofit economic development corporation designed to drive job creation and new capital investment in Ohio through business attraction, retention and expansion. The organization also works to seed talent production in its targeted industries and to attract talent to Ohio through Find Your Ohio. JobsOhio works with six regional partners across Ohio: Dayton Development Coalition, Ohio Southeast Economic Development, One Columbus, REDI Cincinnati, Regional Growth Partnership, and Team NEO. Learn more at www.jobsohio.com. Follow us on LinkedIn, Twitter and Facebook.
Project Qualification for the Governor's Cup Awards
Site Selection's Conway Projects Database, which is used as the basis to calculate the total projects for Governor's Cup Awards, records new corporate projects – such as headquarters, manufacturing plants, R&D operations and logistics, etc. – that have major impacts. These projects must meet at least one of three criteria: a) have capital investment of at least $1M, b) create at least 20 new jobs or c) add 20,000 sq. ft. or more of new space. Retail, government, hospital and school projects are not counted in the metrics.