REDI Cincinnati names John F. Barrett Wm. T. (Bill) Robinson, III Upward and Onward! Award Winner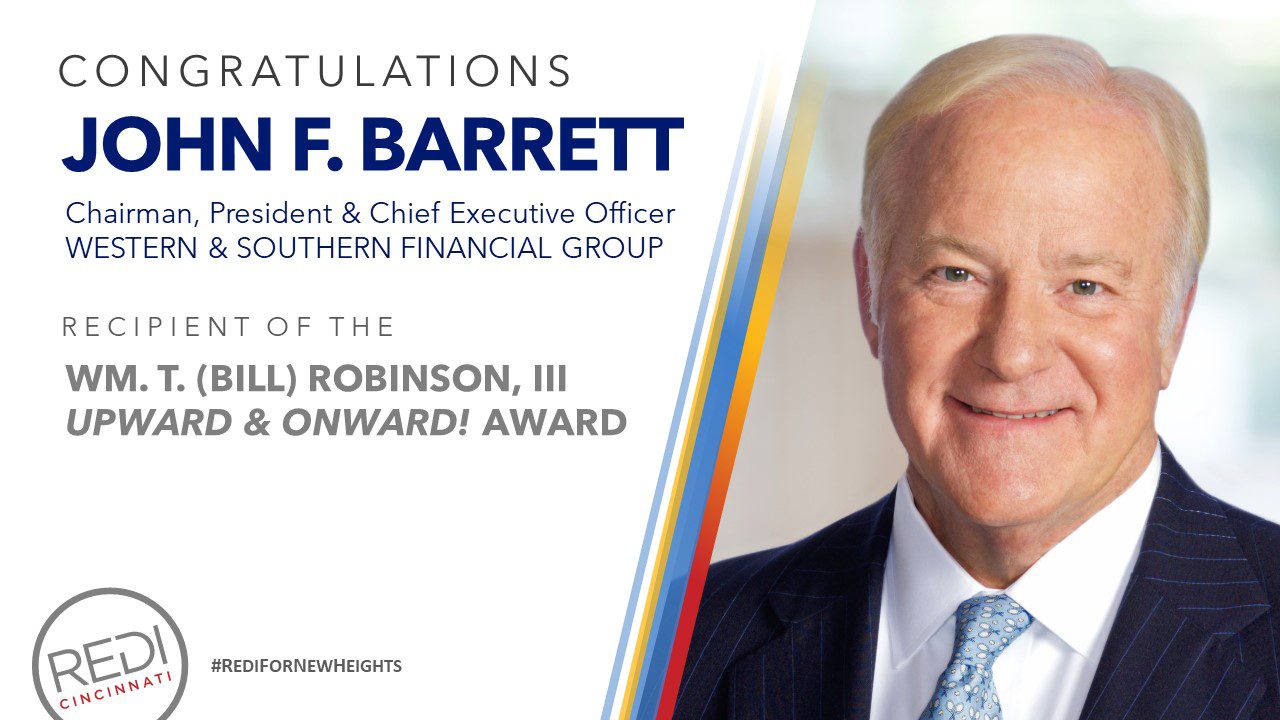 At its 9th annual meeting on Tuesday, March 7, REDI Cincinnati announced Western & Southern chairman, president and CEO John F. Barrett as its Wm. T. (Bill) Robinson, III Upward and Onward! Award winner.
CINCINNATI – March 08, 2023 – During REDI Cincinnati's Annual Meeting at The Monastery Event Center in Mt. Adams on Tuesday, March 7, the organization honored Western & Southern chairman, president and CEO John F. Barrett as the Wm. T. (Bill) Robinson III, Upward and Onward! Award winner. Named in honor of the late attorney and Greater Cincinnati economic developer, the award recognizes an individual who embodies the qualities of:
Regionalism – supporting REDI's mission to unite the region to compete globally
Activism – serving as a tireless champion of economic development
Spirit – living with enthusiasm and passion for the progress of our three-state region
Optimism – jumping into action regardless of the challenge
"I truly believe that Cincinnati is the best place to live, work and celebrate life," said Barrett. "Our entire region has so much going for it, but what distinguishes our city from others is its untapped potential, and it's also why investing in its growth, prosperity and vibrancy is so important."
After joining Western & Southern in 1987 as its Chief Financial Officer, Barrett was named president in 1989, Chief Executive Officer in 1994 and Chairman in 2002. He is a passionate supporter of economic development and has been on REDI Cincinnati's executive committee since the organization's inception in 2014. Additionally, Barrett currently serves on the board of directors of Cintas Corporation and has previously held membership on the boards at The Andersons, Inc., Cincinnati Bell (now Alta Fiber), Convergys Corporation, Fifth Third Bancorp and Touchstone Investment Trust.
tireless ambassador of the Cincinnati region, Barrett has not only helped spur economic development in the region, but he has also been a leader in downtown Cincinnati's rejuvenation as well as spearheading women and African American leadership in the region by launching the United Way Women's Leadership Council and founding The Herbert R. Brown Society.
"When I think of the attributes of the Wm. T. (Bill) Robinson III, Upward and Onward! Award, it reminds me of John and all he has done to support the Cincinnati region over the course of his career," said Kimm Lauterbach, REDI Cincinnati president and CEO. "John's advocacy for our region—within our MSA as well as both nationally and internationally—is unparalleled. His passion for Cincinnati is always on display and he is constantly seeking ways to advance the region and lead it to new heights. We are incredibly grateful for John's support of REDI Cincinnati and the Cincinnati region."
About REDI Cincinnati
The Regional Economic Development Initiative (REDI) Cincinnati is the first point-of-contact for companies locating or growing in the 16-county region at the heart of southwest Ohio, northern Kentucky, and southeast Indiana. REDI Cincinnati is supported by top business leaders and community partners and staffed by a team of economic development experts who are uniting the Cincinnati region to compete globally.
The future is bright, and we're building it, right now. Join us at REDICincinnati.com.