Economic Vibrancy Comparison/Report: Talent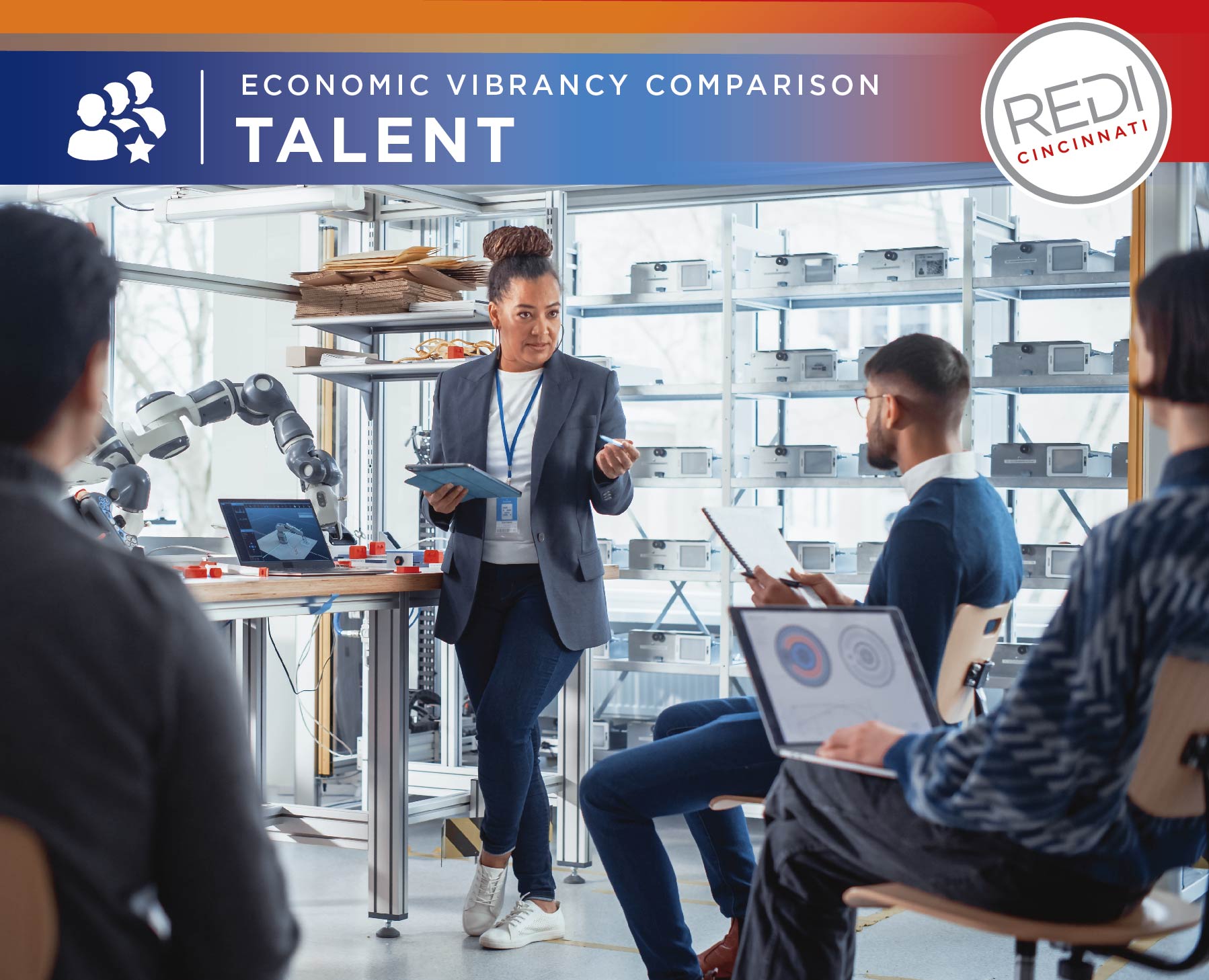 This is the fifth of a six-part series examining an economic comparison report led by REDI Cincinnati's research team. The comparison benchmarked Cincinnati in six strategic areas—growth, talent, innovation, housing, prosperity, and inclusivity—against 39 peer MSAs ranging from 1-4.5 million people. In this edition, we'll take a look at Talent.
Read the series:
Talent
Prosperity
Please note that each of the areas examined in this blog series considers data from different time periods. The data used in this report is made publicly available at both different points in time and at varying intervals. For transparency, the time frames are noted in parentheses in each sections' headline.
Talent Is the Backbone of Economic Success
As we consider strategic areas for success both here in Cincinnati and across the comparison regions, we must consider talent as critical to any notion of economic vibrancy. Undoubtedly, a robust workforce is the backbone of any economy, essential not just to the employment sector but also as engaged economic contributors experiencing and utilizing regional services and products.
In short, there is no local economy without a functional talent pool supporting and sustaining a diverse, thriving region. Dedicated workforce initiatives support the Cincinnati region's local talent pool. Organizations, like comSpark, Per Scholas, MAX Technical Training, Tech Elevator, Untapped's Practical Development Program, INTERalliance and Apprenti work to train and fill local tech jobs. Our regional partnerships with the Cincinnati USA Regional Chamber, 1819 Innovation Hub, Cincinnati State Technical and Community College's Workforce Development Center, Ohio Career Technical Center's Workforce Services and many more work day in and day out to train and retain our region's future talent.
Attracting talent for a skilled, diverse and passionate workforce doesn't just happen, though. Rather, successful regions work hard to educate, attract and employ an able talent pool ready to work today while preparing for tomorrow's various challenges.
Cincinnati as a Talent Magnet (Data points in report from 2022)
So how does Cincinnati fare on the talent topic? According to our comparative report, things are looking up for the Queen City, which handily outperforms most of the cities we examined.
This hasn't always been the case. In fact, as recently as 2017, more college-educated workers chose to leave our region than stay—a troubling trend that for too long characterized our region's workforce. But today, Cincinnati is far more likely to gain college-educated citizens who choose to move to our region to live and work, with 2019 data indicating that Cincinnati gained 29 college-educated migrants for every 10,000 existing residents. This is a notable positive change, and one on which our region performs better than most areas we studied.
Cincinnati does a terrific job of educating our region's workforce, too. Nearly 38 percent of Cincinnati residents between the workforce-typical ages of 25 to 64 have earned a bachelor's degree or higher educational attainment, a positive change of 13.2 percent between 2014 and 2019. (The same age group holding an associate's degree was 7 percent.)
And our region's educational institutions are awarding a significant number of degrees in science, technology, engineering and math (STEM)—nearly 4,000 in 2019 alone, which breaks down to 19 STEM degrees per 10,000 residents. Regional STEM degree attainment rose more than 70 percent between 2014 and 2019, with Cincinnati placing in the top 50 percent of the MSAs we studied.
And we're just getting started, with both general education and STEM training continuing to increase within our region.
Next Step: Attracting More Young Professionals (Data points in report from 2022)
While Cincinnati fares better than most of the MSAs we surveyed, there's still plenty of work to be done. With such a significant turnaround over just a few years now is the time to work to keep this upward trajectory going and propel our city's economic success into the stratosphere.
One central focus area going forward needs to be attracting young professionals to live and work in Cincinnati. While it's true that college-educated workers are choosing our region now more than ever, only 26 percent of the Cincinnati region's total population fell into the 25-to-44-year-old age group in 2019—a smaller share than most of the other benchmark regions we considered. And more concerning, that number actually declined between 2014 and 2019.
Cincinnati has so much to offer its citizens, from desirable cost of living to world-class dining to stellar parks and more. But while we know how great our region is spreading the word requires dedicated stakeholders. Luckily, we have that, too.
Numerous Cincinnati programs work hard to attract young professionals to our region, building a strong base of passionate workers for a strong economic future. Find Your Ohio, a program created by JobsOhio that specializes in bringing out of state workers to Cincinnati for Ohio's most in-demand jobs. The Cincinnati USA Regional Chamber's Hello Cincy™ talent attraction platform, too, attracts and recruits young workers via passionate ambassadors, welcome events, talent connections and more. And, Cincinnati Experience touts the Cincinnati story and shares what makes our region so great.
Strong Today, Bright Tomorrow,
Cincinnati's talent positioning is bright, and our tomorrow is bound to shine even brighter. The city even has a long list of recent accolades to prove it.
Ranking site Niche has a lot of good things to say about our city, naming Cincinnati the 49th best city in America for young professionals in 2022. LinkedIn awarded Cincinnati the fourth best city to start a career in 2020, SmartAsset lauded our city as the very best for new college grads (and 25th best nationwide to start a career) in 2022 for the fourth-straight year, and moveBuddha called the region the third best alternative city for young professionals in 2021.
And for entrepreneurs, it doesn't get better than Cincinnati according to Incfile, who named the city the best place to start an entrepreneurial journey.
Of course REDI Cincinnati works tirelessly to champion our city's economic prospects. And, finally, there's you—all of you, working hard every day to spread the word about the Queen City while making this a premier city to live, work and play.