Mike Venerable Named Wm. T. (Bill) Robinson, III Upward and Onward! Award Winner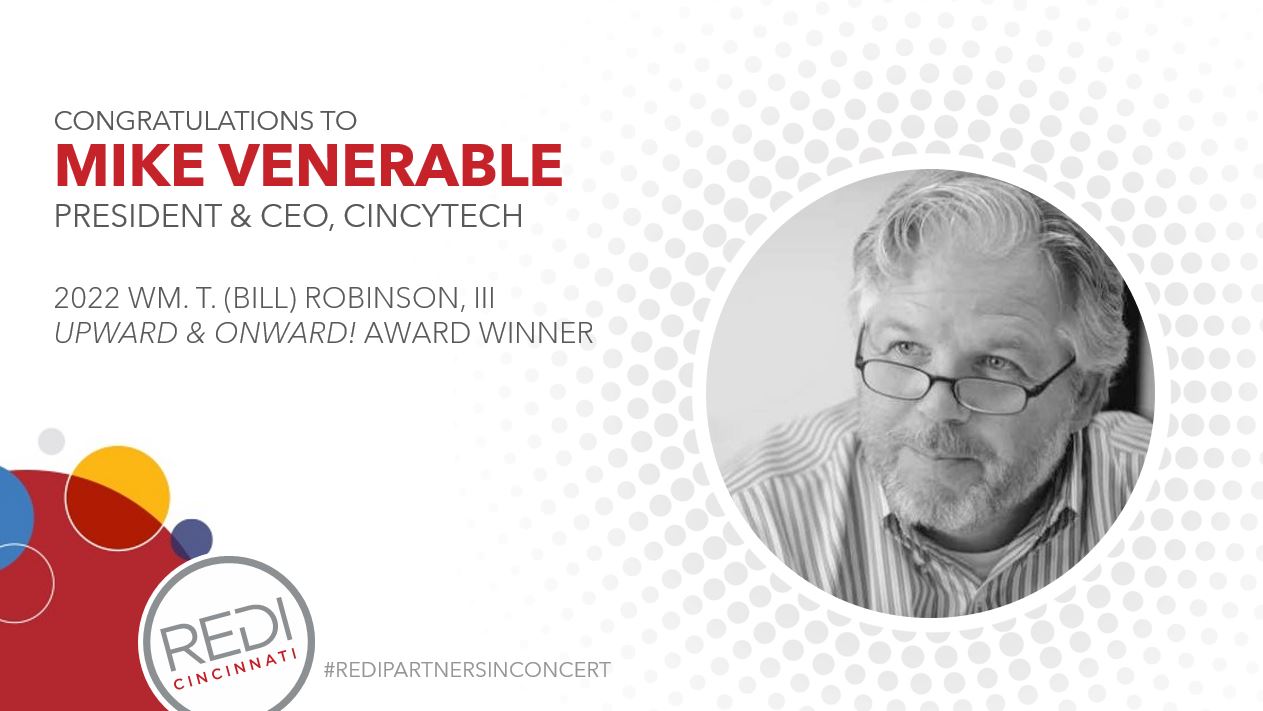 CINCINNATI, OHIO – March 11, 2022 – Mike Venerable, CEO of CincyTech USA, was honored at REDI Cincinnati's Annual Meeting at Music Hall on Thursday, March 10, as the Wm. T. (Bill) Robinson III, Upward and Onward! Award winner. The accolade is named in honor of the late attorney and Greater Cincinnati economic developer who embodied the qualities of:
Regionalism – supporting REDI's mission to unite the region to compete globally
Activism – serving as a tireless champion of economic development
Spirit – living with enthusiasm and passion for the progress of our three-state region
Optimism – jumping into action regardless of the challenge
"I was surprised and grateful to receive this award from REDI," commented Venerable. "I accept it on behalf of all of the people that helped drive CincyTech's regional impact over the years. The early work by Jim Anderson and Michael Fisher to restart CincyTech before I was there was essential. Bob Coy, who architected our business model, had a vision for an enduring organization that could have a long-term impact. Finally, the risk-takers, the founders and the investors who together provide the ideas and capital that drive success. I especially want to recognize the Chamber, Cincinnati Children's and UC for their support for more than a decade. It is a grand collaboration, and I am privileged to be a part of it."
Since joining CincyTech in 2006, Venerable (an entrepreneur himself) has focused on the success of seed and early-stage companies while building a solid network of investors and strategic partners for economic opportunity and growth in the Cincinnati region. Under Venerable's leadership, CincyTech is a trusted partner for high-potential life science and digital companies, helping them transform ideas into results.
"Mike's leadership and contributions have helped the Cincinnati region become a global competitor and a model for top-notch economic development," said Kimm Lauterbach, REDI Cincinnati president and CEO. "CincyTech has helped deliver more than $1B in economic impact to our region since its inception and Mike has been instrumental all along the way, demonstrating the regionalism, activism, spirit and optimism characteristics the Upward and Onward! Award represents."
About REDI Cincinnati
The Regional Economic Development Initiative (REDI) Cincinnati is the first point-of-contact for companies locating or growing in the 16-county region at the heart of southwest Ohio, northern Kentucky, and southeast Indiana. REDI Cincinnati is supported by top business leaders and community partners and staffed by a team of economic development experts who are uniting the Cincinnati region to compete globally.
The future is bright, and we're building it, right now.
About JobsOhio
JobsOhio is a private nonprofit economic development corporation designed to drive job creation and new capital investment in Ohio through business attraction, retention and expansion. The organization also works to seed talent production in its targeted industries and to attract talent to Ohio through Find Your Ohio. JobsOhio works with six regional partners across Ohio: Dayton Development Coalition, Ohio Southeast Economic Development, One Columbus, REDI Cincinnati, Regional Growth Partnership, and Team NEO. Learn more at www.jobsohio.com. Follow us on LinkedIn, Twitter and Facebook.