WOODLAWN-BASED MANUFACTURER ANNOUNCES NEW SOLUTIONS FOR SANITATION DURING PANDEMIC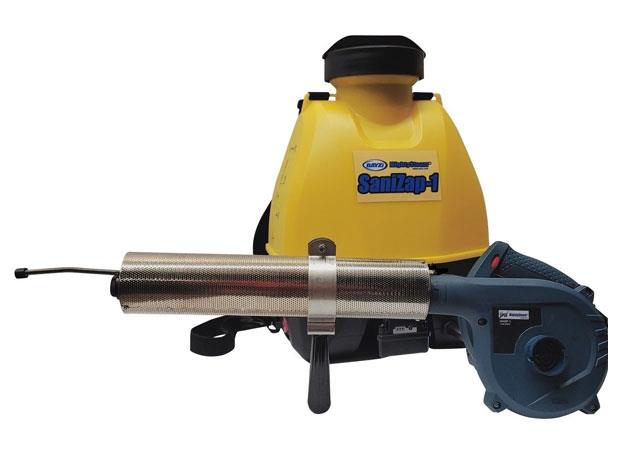 Cincinnati, OH – November 5, 2020 – To address the need for frequent sanitizing because of the pandemic, Bayzi Corp. is launching cutting edge high temperature portable SaniZap® steam sanitizers for rapid, safe, effective decontamination and antimicrobial cleaning. Bayzi's SaniZap sanitizers use only water, eliminating the expense and accumulating residues from repeated use of common chemical sanitizers. The sanitizing devices are completely safe for the environment and for use around children, pets, kitchens, or other sensitive areas. Bayzi estimates that users can save more than 50% of the typical costs of sanitizing services with the purchase of a SaniZap device.
"There was so much interest in portable high-temperature steam devices due to the pandemic that our team pulled these products from the backburner and has been working hard to make this technology and the products available quickly," said Anu Vissa, COO of Bayzi. "We deeply appreciate the help from JobsOhio and REDI Cincinnati in moving this effort into the production phase."
Micropyretics Heaters International Inc., the parent company to Bayzi, was first founded in 1995 and started doing business in Hamilton County Development Corporation's Business Accelerator. Both companies are now located in the Village of Woodlawn. Bayzi partnered with REDI Cincinnati and JobsOhio to support the expansion of its SaniZap sanitizing solution by working with the company to secure a JobsOhio Inclusion Grant.
"Over the last decade, more than half of all new businesses started in the country have been minority-owned and led, but they still struggle getting access to capital," said Brandon Simmons, REDI Cincinnati vice president of project management. "JobsOhio's commitment to supporting minority- and women-owned businesses through its Inclusion Grant is already paying dividends in Southwest Ohio with Bayzi serving as the perfect example of a company given an opportunity to grow and contribute to the region's economy and success. We're thrilled that they were selected for this grant."
This is the first JobsOhio Inclusion Grant announced in Southwest Ohio. The grant exists to provide financial support for eligible projects in designated distressed communities and for businesses owned by underrepresented populations across the state. The grant will support the creation of 15 new jobs and help Bayzi serve more customers looking for effective, convenient sanitation solutions for their workplace.
"Bayzi Corporation's growth of its cutting-edge steam sanitizer production in the Cincinnati region is a great example of how companies are evolving to find solutions during these challenging times," said J.P. Nauseef, JobsOhio president and CEO. "This new product will bring 15 new jobs to the Village of Woodlawn and safer, cleaner options for Bayzi's growing customer base nationwide."
More about the SaniZap's patented technology:
Superheated Steam Generators: Produces steam over 300oC (about 752oF) for anti-microbial sanitizing
Reduce and eliminate concentrations of viruses, bacteria, fungi, biofilms
Instant: On-demand superheated steam generators
Safe: No pressure vessels, just water—no chemicals, sticky residues or chemical fogging
No wetness or moisture residue – self-drying
Electric: no fuels or emissions
2 basic models: SaniZap-4 on wheels and Handheld SaniZap-1 and SaniZap-Mini
Portable: Clean and sanitize different areas, different locations, hard-to-clean areas, and parts
About Bayzi Corporation
Located in Cincinnati, Ohio, USA, Bayzi Corporation is focused on the technology of rapidly generated steam and steam systems for new processes and novel devices to meet the pandemic type of sanitation and cleaning needs. For more information, email: info@bayzi.com
About JobsOhio
JobsOhio is a private nonprofit economic development corporation designed to drive job creation and new capital investment in Ohio through business attraction, retention, and expansion. The organization also works to seed talent production in its targeted industries and to attract talent to Ohio though Find Your Ohio. JobsOhio works with six regional partners across Ohio: Dayton Development Coalition, Ohio Southeast Economic Development, One Columbus, REDI Cincinnati, Regional Growth Partnership, and Team NEO. Learn more at www.jobsohio.com. Follow us on LinkedIn, Twitter, and Facebook.
About REDI Cincinnati
The Regional Economic Development Initiative (REDI) Cincinnati is the first point-of-contact for companies locating or growing in the 16-county region at the heart of southwest Ohio, northern Kentucky, and southeast Indiana. REDI Cincinnati is supported by top business leaders and community partners and staffed by a team of economic development experts who are uniting the Cincinnati region to compete globally.
The future is bright, and we're building it, right now.