Wade Williams Named a Top-50 Economic Developer by Consultant Connect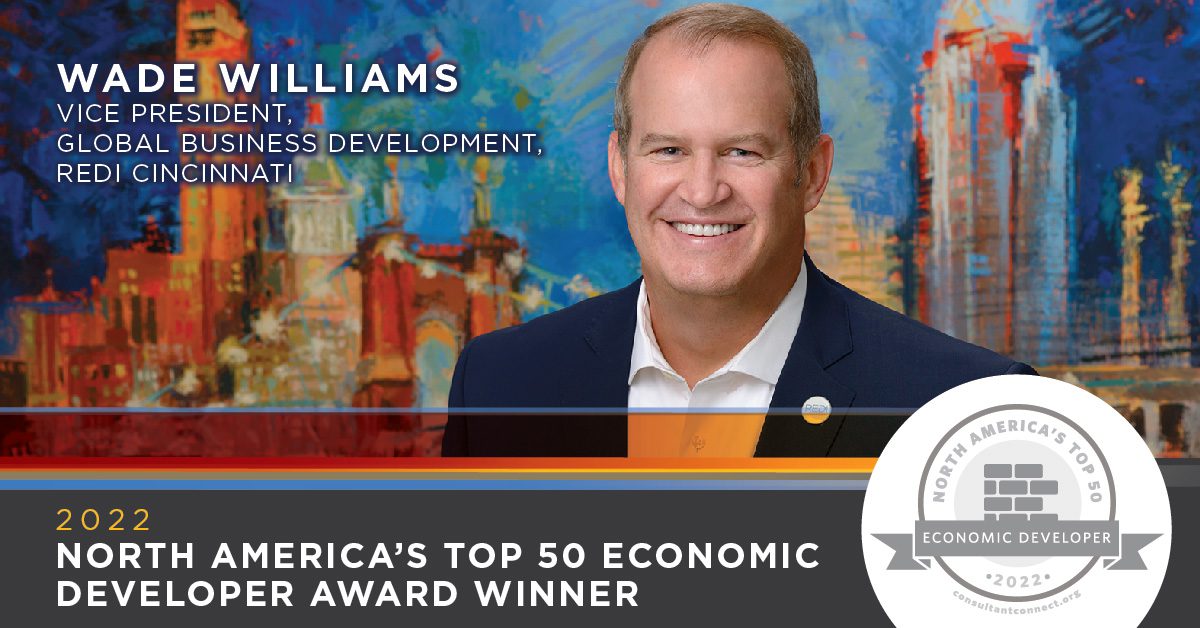 CINCINNATI, OH – April 18, 2022 – Consultant Connect recently named Wade Williams to its 2022 North America's Top-50 Economic Developers list. Williams, who has spent nearly 15 years in the economic development profession working on behalf of the Cincinnati region, currently serves as the vice president of global business development at REDI Cincinnati.
"It is truly an honor to receive this recognition," said Williams. "I love the diversification of industry and neighborhoods in the Cincinnati region. I love our sports teams (Who Dey!) and the commitment to arts and culture; I love that we have the fourth-best children's hospital and the best zoo in the U.S.; and most of all, I love raising my family here and making a difference in the community."
In his role at REDI Cincinnati, Williams leads business attraction efforts both domestically and internationally, including maintaining and growing strategic relationships with the site selection community. He also leads the organization's business intelligence strategy, capitalizing on the use of artificial intelligence, research and data collection to ensure REDI Cincinnati offers the best return on investment to its clients and partners.
Thanks in large part to Williams' efforts, REDI Cincinnati helped secure more than 7,000 new jobs with an associated new payroll of $357.9M and $755.2M in capital investments for the region in 2021 alone. As part of the JobsOhio network, REDI secured over 5,100 jobs, $298.8M in new payroll and $502.8M in capital investment in Southwest Ohio only. Williams' team also assisted with 429 retention and expansion visits in the region. These successes have resulted in the Cincinnati region being named the No. 7 metro in Site Selection magazine's Governor's Cup Awards.
"Wade is one of the most knowledgeable economic development professionals in the country with demonstrated success in growing businesses, creating new jobs and bringing capital investment to southwest Ohio, northern Kentucky and southeast Indiana. Our success at REDI, including the outstanding metrics from last year, help serve as a testament to Wade's efforts," said Kimm Lauterbach, REDI Cincinnati CEO and president. "He has been instrumental in driving results for REDI and our region, and I am proud that he is being recognized as a top-50 economic developer in the country."
Williams' selection as a Top-50 Economic Developer by Consultant Connect is REDI's third in the last two years and fifth since 2016. Lauterbach and Brandon Simmons, vice president of project management, garnered recognition in 2021. Lauterbach was also a recipient in 2017, while former REDI CEO and President Johnna Reeder was named to the 2016 list.
About REDI Cincinnati
The Regional Economic Development Initiative (REDI) Cincinnati is the first point-of-contact for companies locating or growing in the 16-county region at the heart of southwest Ohio, northern Kentucky, and southeast Indiana. REDI Cincinnati is supported by top business leaders and community partners and staffed by a team of economic development experts who are uniting the Cincinnati region to compete globally.
The future is bright, and we're building it, right now. Join us at REDICincinnati.com.