Cincinnati Region Shines in 2021 Site Selection Magazine's Governor's Cup Awards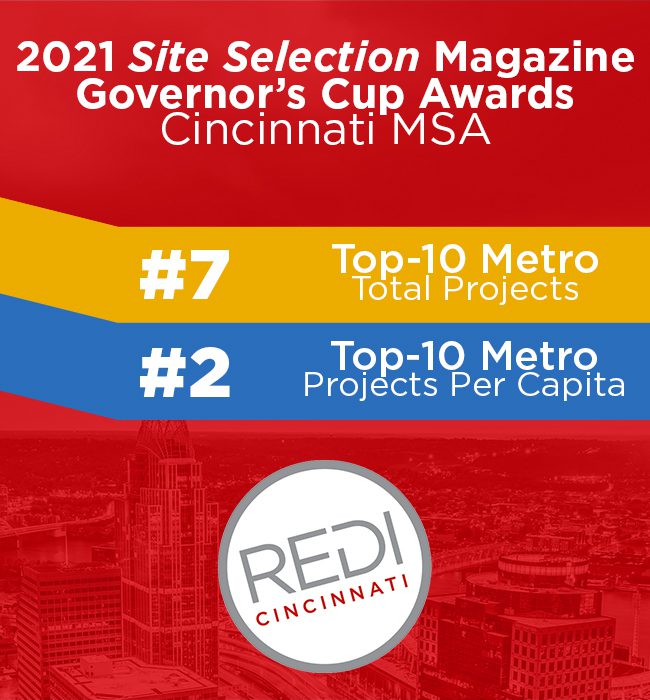 CINCINNATI, OHIO – March 1, 2022  – Site Selection magazine has recognized the Cincinnati Region as one of its 2021 Top-10 Metros for corporate facility investment in multiple categories as part of its 2021 Governor's Cup Awards. Cincinnati ranks seventh in total investment projects with 125, while the region moves all the way up to the No. 2 metro in projects per capita at 56.
"This is the 19th-consecutive year Cincinnati has been honored as a top-10 metro for investment, and it is a testament to the strength, vitality and diversity of the region," said Kimm Lauterbach, REDI Cincinnati president and CEO. "With this honor, Cincinnati adds to a growing list of accolades that also includes ranking first in the country in lowest cost of living among major metros1, best city in the nation for college grads2 and features the best regional airport in CVG3. As our beloved Bengals so proudly exclaimed on their run to the Super Bowl this year, it is us!"
Cincinnati improved in both total and per capita metrics year-over-year, climbing two positions in total projects and five in per capita. The tri-state region was also well-represented in the state rankings with Ohio, Kentucky and Indiana each appearing in at least one of the two-state lists. Ohio was second overall in total projects and fourth in per capita, while Kentucky and Indiana were third and eighth, respectively, in the per capita rankings.
About REDI Cincinnati
The Regional Economic Development Initiative (REDI) Cincinnati is the first point-of-contact for companies locating or growing in the 16-county region at the heart of southwest Ohio, northern Kentucky and southeast Indiana. REDI Cincinnati is supported by top business leaders and community partners and staffed by a team of economic development experts who are uniting the Cincinnati region to compete globally.
The future is bright, and we're building it, right now. Join us at REDICincinnati.com.
Project Qualification for the Governor's Cup Awards
Site Selection's Conway Projects Database, which is used as the basis to calculate the total projects for Governor's Cup Awards, records new corporate projects – such as headquarters, manufacturing plants, R&D operations and logistics, etc. – that have major impacts. These projects must meet at least one of three criteria: a) have capital investment of at least $1M, b) create at least 20 new jobs or c) add 20,000 sq. ft. or more of new space. Retail, government, hospital and school projects are not counted in the metrics.
For more information, contact:
Matt Englhart, JobsOhio
(614) 300-1152
englehart@jobsohio.com
1 Bureau of Economic Analysis, 2019
2 Smart Asset, 2019
3 Skytrax, 2021