Site Q&A with Andrea Pinho: Tract 416 in Mt. Orab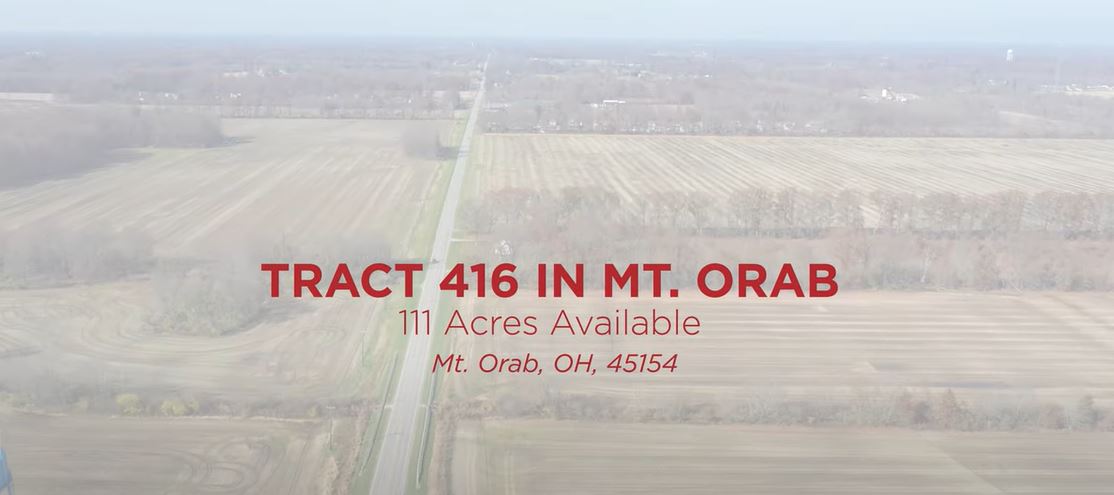 3-MINUTE Q&A WITH REDI CINCINNATI'S SITE SELECTION AND REAL ESTATE MANAGER, ANDREA PINHO
Andrea Pinho joined the REDI Cincinnati team in 2019 as the site selection and real estate manager. In this role, Andrea assists growing companies in finding their perfect location to thrive in the Cincinnati region. Her greatest ability is to pinpoint ideal real estate options that fit the exact needs of her clients.
1. Andrea, what makes Tract 416 in Mt. Orab, Ohio a strong site option?

Tract 416 is a strong site that is approximately 111 acres just 40 miles east of Cincinnati. This site offers a more rural location with easy access to State Route 32 and has a four-lane highway that feeds into I-275, I-71, and I-75 is .5 miles from the site. The #1 regional airport in North America, CVG, is only 45 miles away. Those looking for rail might find this site attractive. Rail siding is possible; Norfolk Southern rail forms the northern border of the site making a rail spur feasible to the site.

2. Can you speak to the added advantages of this site?

This agricultural, flat site is zoned industrial and privately-owned but controlled via an option from the Mt. Orab Port Authority. The community has invested to complete due diligence studies on the property. The studies cite no impediment to development – mitigating risks and speeding up the timeline of a project.

3. What about the site's utility capacities?

I've broken out Tract 416's utility specifics below:

Electric: Distribution 20 MW | Transmission 100 MW
Natural Gas: 1 MCFH Firm, 5 MCFH Interruptible | 30 psig on first-come, first-served

Increased capacity upon current pipeline project, tentative completion Nov. 2023

Water: 8-inch line | 1 million gallons/day excess
Wastewater: 8-inch line | 250,000 gallons/day excess.

4. What size company and industry would be the perfect fit for this site?

The minimum size of the site is divisible by 15 acres. This split offers an opportunity for both large and mid-size industrial users. A proposed site rendering offers a range of building sizes totaling up to 1,473,000 SF.

5. If a company or consultant is interested in this property, what are the next steps?

Please reach out to me at apinho@REDICincinnati.com; I will help you navigate the next steps. At REDI Cincinnati, we make sure to work as a team to confirm that Tract 416 in Mt. Orab meets all your necessary site requirements. Once we verify that the site is a good fit, we will set up a site visit and facilitate the right talent, utilities, and connections. We have found that this process mitigates risk and assists your team in a smooth transaction.
Take a quick look for yourself. View Site Tract 416 in Mt. Orab, below.
The Cincinnati Region is the Logistics Hub of the Midwest. See why.