Site Q&A with Andrea Pinho: West Harrison Business Park (Southeast Indiana)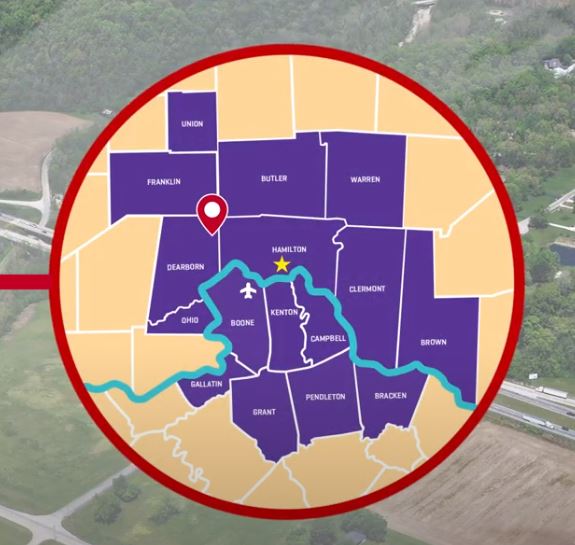 3-MINUTE Q&A WITH REDI CINCINNATI'S SITE SELECTION AND REAL ESTATE MANAGER, ANDREA PINHO
Andrea Pinho joined the REDI Cincinnati team in 2019 as the site selection and real estate manager. In this role, Andrea assists growing companies in finding their perfect location to thrive in the Cincinnati region. Her greatest ability is to pinpoint ideal real estate options that fit the exact needs of her clients.
Andrea, what makes West Harrison Business Park in Southeast Indiana a strong site option?

AP: West Harrison Business Park is one mile from the Indiana-Ohio state line. It is truly a blend of rural landscape (plenty of room for expansion), while still taking advantage of the Cincinnati region's metropolitan benefits. These benefits include access to top talent, interstate highways, and CVG Airport – the fastest-growing cargo airport in the U.S – just to name a few.

Can you speak to the added advantages of these sites?

AP: The West Harrison Business Park spans 140 acres and is composed of two shovel-ready sites. Site A spans 55 acres, publicly-owned, and can accommodate buildings up to 1 million square feet. Site B has the unique feature of providing on-site railroad access, which connects to six Class One railroads. Bordered by the Whitewater River, Site B also provides a benefit to water-dependent businesses. The river and its aquifer on site provide an option for clean and plentiful water through either groundwater wells or direct intake from the river. In addition, both sites offer visibility to 35,000 vehicles per day passing on I-74, providing an opportunity to increase brand awareness and market employment opportunities to the area workforce.

What about the sites' utility capacities?

AP: The business park has ample utilities at both sites including electric, water, sewer, natural gas – in addition to broadband fiber located within 5 miles of the site. There is a 19.9 kV Electric distribution line, currently with 12MW capacity. A 6-inch natural gas line with an available capacity of 7 Mcfh and the ability to increase this supply for an additional 43 Mcfh or more, depending on the project. West Harrison Business Park offers an option between a 12-inch water line with 500,000 gallons per day available or utilizes private groundwater with access to the Whitewater River aquifer. In terms of sewer capacity, there is a 10-inch wastewater line with 120,000 gallons per day available. Fiber is provided by Cincinnati Bell or Comcast.

What size company and industry would be the perfect fit for this site?

AP: This site is ideal for any corporation looking to expand or relocate its moderate to heavy production capacity. Both sites are zoned to accommodate most projects up to moderate industrial, warehousing, and manufacturing. 

If a company or consultant is interested in this property, what are the next steps?

AP: Please reach out to me at apinho@REDICincinnati.com; I will help you navigate the next steps. At REDI Cincinnati, we make sure to work as a team to confirm that West Harrison Business Park meets all your necessary site requirements. Once we verify that the site is a good fit, we will set up a site visit and facilitate the right talent, utilities, and connections. We have found that this process mitigates risk and assists your team in a smooth transaction.
Take a quick look for yourself. View West Harrison Business Park's Video.
The Cincinnati Region is the Logistics Hub of the Midwest. See why.