REDI Cincinnati Launches New Website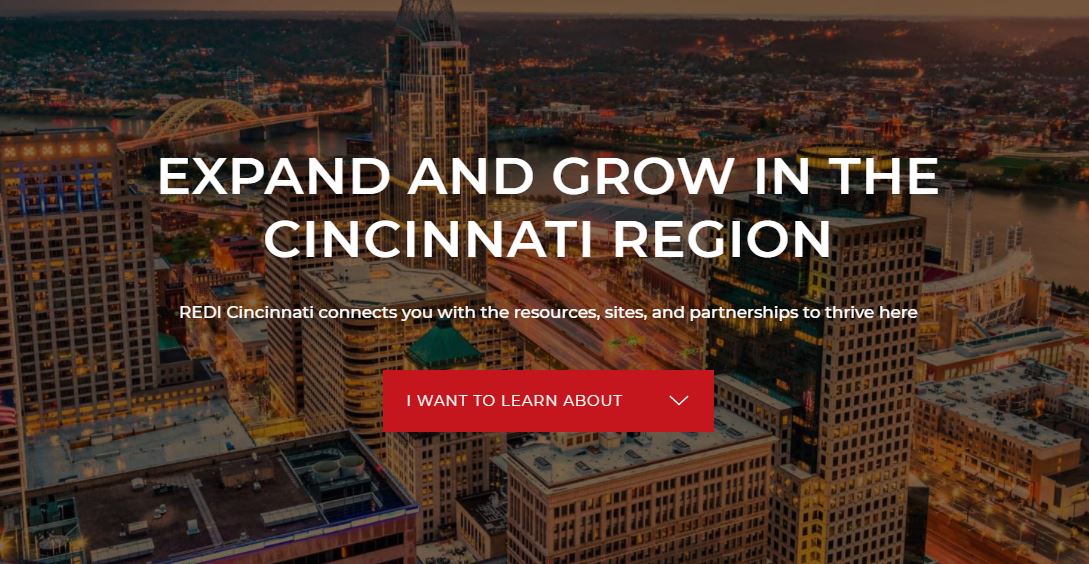 Cincinnati, OH – December 2, 2020 – REDI Cincinnati has launched a new website for growing companies looking for resources, sites, and partners to help them make smarter investment decisions. The website features a modern design built to support user-friendly searches. Along with the website's easy navigation, there is enhanced data on the Cincinnati region's core industries, population, and labor, as well as a tool to find available sites within the region. Viewers will hear from local companies across the three-state 16-county region through their published testimonials and wins.
The new site is housed at the same address: https://redicincinnati.com/
"Because of the pandemic, it's more crucial than ever to invest in a digital presence that makes business investment decisions easier," said Gina Rittinger, vice president of marketing & strategic communications, REDI Cincinnati. "This new site gives companies more tools at their fingertips to see how first-hand the Cincinnati region and REDI Cincinnati can play a part in their growth plans."
Global and regional businesses looking to locate or initiate growth in the Cincinnati region can use REDI's website to thoughtfully evaluate the key factors (i.e., talent, sites, partnerships) that will guide its decision. To ensure efficient communication, it's easy to get in contact with REDI Cincinnati's team of economic development experts through the website. Users will find that each web page is connected to the appropriate team member to ensure a quick response.
"A website is likely the first experience someone unfamiliar with a location will have with your brand," said Renae Scott, JobsOhio managing director of marketing and communications. "REDI Cincinnati's new website showcases the strengths of the region and serves as a powerful tool for companies seeking the competitive advantages that Ohio offers their businesses."
REDI Cincinnati's new site also features a new guide—"The Top 6 Characteristics of Cities Where Businesses Thrive"—meant to help businesses understand the key factors that contribute to success when establishing a new location.
US Digital Partners helped REDI Cincinnati in the development of the site, utilizing the company's expertise in web development and its history of working closely with community-focused organizations in the Cincinnati region.
"Upon discovery, it was obvious the new REDI Cincinnati website needed to provide a variety of information easily and quickly for multiple audiences, while also painting a clear picture of what exactly REDI does," said Haley Suriano, US Digital Partners account manager. "The REDI team did a fantastic job staying on track with deadlines in order to launch such a complex website. They did not miss a beat and were such a pleasure to work with."
About JobsOhio
JobsOhio is a private nonprofit economic development corporation designed to drive job creation and new capital investment in Ohio through business attraction, retention, and expansion. The organization also works to seed talent production in its targeted industries and to attract talent to Ohio through Find Your Ohio. JobsOhio works with six regional partners across Ohio: Dayton Development Coalition, Ohio Southeast Economic Development, One Columbus, REDI Cincinnati, Regional Growth Partnership, and Team NEO. Learn more at www.jobsohio.com. Follow us on LinkedIn, Twitter, and Facebook.
About REDI Cincinnati
The Regional Economic Development Initiative (REDI) Cincinnati is the first point-of-contact for companies locating or growing in the 16-county region at the heart of southwest Ohio, northern Kentucky, and southeast Indiana. REDI Cincinnati is supported by top business leaders and community partners and staffed by a team of economic development experts who are uniting the Cincinnati region to compete globally.
The future is bright, and we're building it, right now.