REDI Cincinnati's Kimm Lauterbach wins two prestigious honors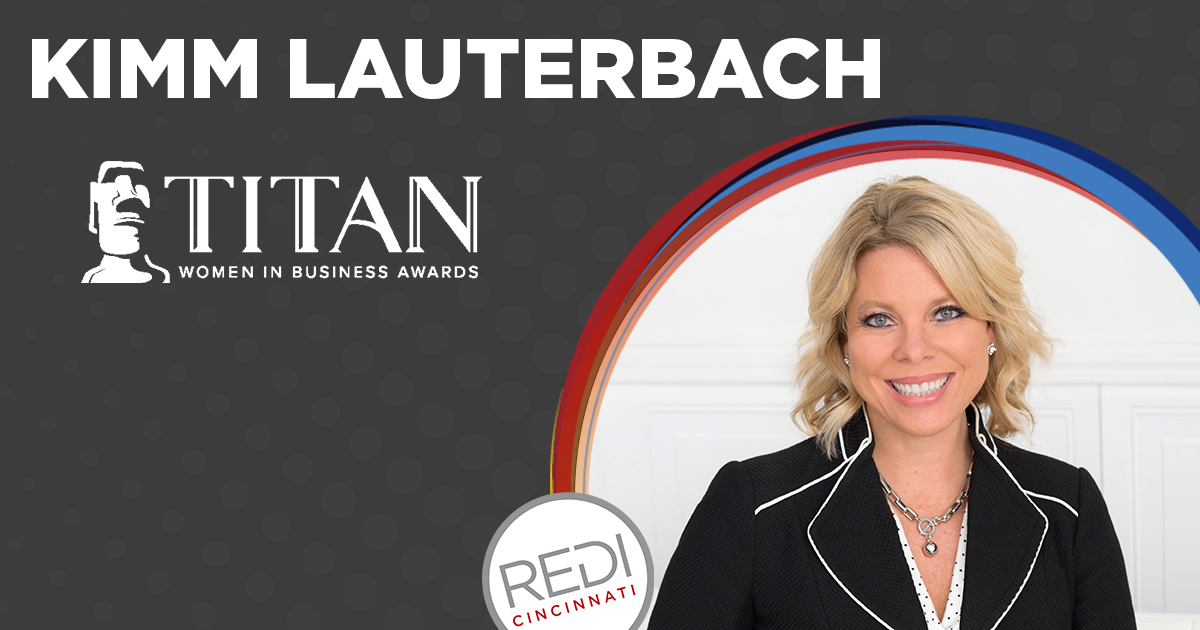 TITAN Women in Business Awards program bestowed Lauterbach with a pair of Female Executive of the Year distinctions.
CINCINNATI, OHIO – JANUARY 12, 2023 – Kimm Lauterbach, president and CEO of REDI Cincinnati, was honored with two TITAN Women in Business Awards, earning recognition as a platinum winner for Female Executive of the Year – Non-Profitable Organization and gold winner for Female Executive of the Year – CEO of the Year.
"Winning one award of this magnitude is always an honor but winning two is truly humbling," said Lauterbach. "I am incredibly grateful and blessed to be presented these accolades but would be remiss if I didn't also recognize the support I receive from both the Executive Committee and my team at REDI Cincinnati. These awards are a testament to their hard work, dedication and support of the Cincinnati region and for their belief in REDI Cincinnati's mission and values."
The TITAN Women in Business Awards celebrate the accomplishments, achievements and impacts of women in their roles as executives and leaders.
"On behalf of REDI's Executive Committee, I would like to extend congratulations to Kimm," said George Vincent, Chairman of REDI Cincinnati's Executive Committee. "Kimm is an accomplished executive whose success in supporting both the economic development and overall vitality of our region is exceptional. From driving job growth and capital investment to collaborating with various organizations and businesses throughout the region to highlight our MSA, Kimm continually demonstrates outstanding leadership to help Cincinnati compete on a global scale."
Lauterbach has served in a leadership capacity since REDI Cincinnati's formation in 2014, helping stand the organization up, before assuming the role of president & CEO in 2018. In its first eight years of existence, REDI Cincinnati has realized 384 projects in southwest Ohio that have created more than 36,000 new jobs and $1.96B in new payroll, while retaining over 62,000 jobs and generating $4.42B in capital investment. Under Lauterbach's leadership and in partnership with our local communities in 2021, the region realized 95 project wins, 7,023 new jobs and $755.2M in capital investment.
REDI Cincinnati and the Cincinnati region have been the recipients of numerous accolades under Lauterbach's guidance as well. Lauterbach's efforts and leadership have contributed to the Cincinnati region extending its streak of Site Selection magazine's ranking as a top-10 metro for total investment projects to 19 consecutive years. The region ranked 7th for total projects in 2021 and moved all the way up to the No. 2 metro in projects per capita.
The Cincinnati Business Courier also named REDI Cincinnati as a Best Places to Work finalist each of the last three years.
Awards have punctuated Lauterbach's successful career, with the Cincinnati Business Courier naming Kimm its 2021 CEO of the Year for Small Nonprofit Organizations, which follows the publication's 2017 Women Who Mean Business recognition. In 2016 and again in 2021, Consultant Connect named her one of North America's Top 50 Economic Developers. Lauterbach is also recognized as a Woman of Influence by Venue and Lead Magazine.
About REDI Cincinnati
The Regional Economic Development Initiative (REDI) Cincinnati is the first point-of-contact for companies locating or growing in the 16-county region at the heart of southwest Ohio, northern Kentucky, and southeast Indiana. REDI Cincinnati is supported by top business leaders and community partners and staffed by a team of economic development experts who are uniting the Cincinnati region to compete globally.
The future is bright, and we're building it, right now. Join us at REDICincinnati.com.