REDI Cincinnati receives two excellence awards from IEDC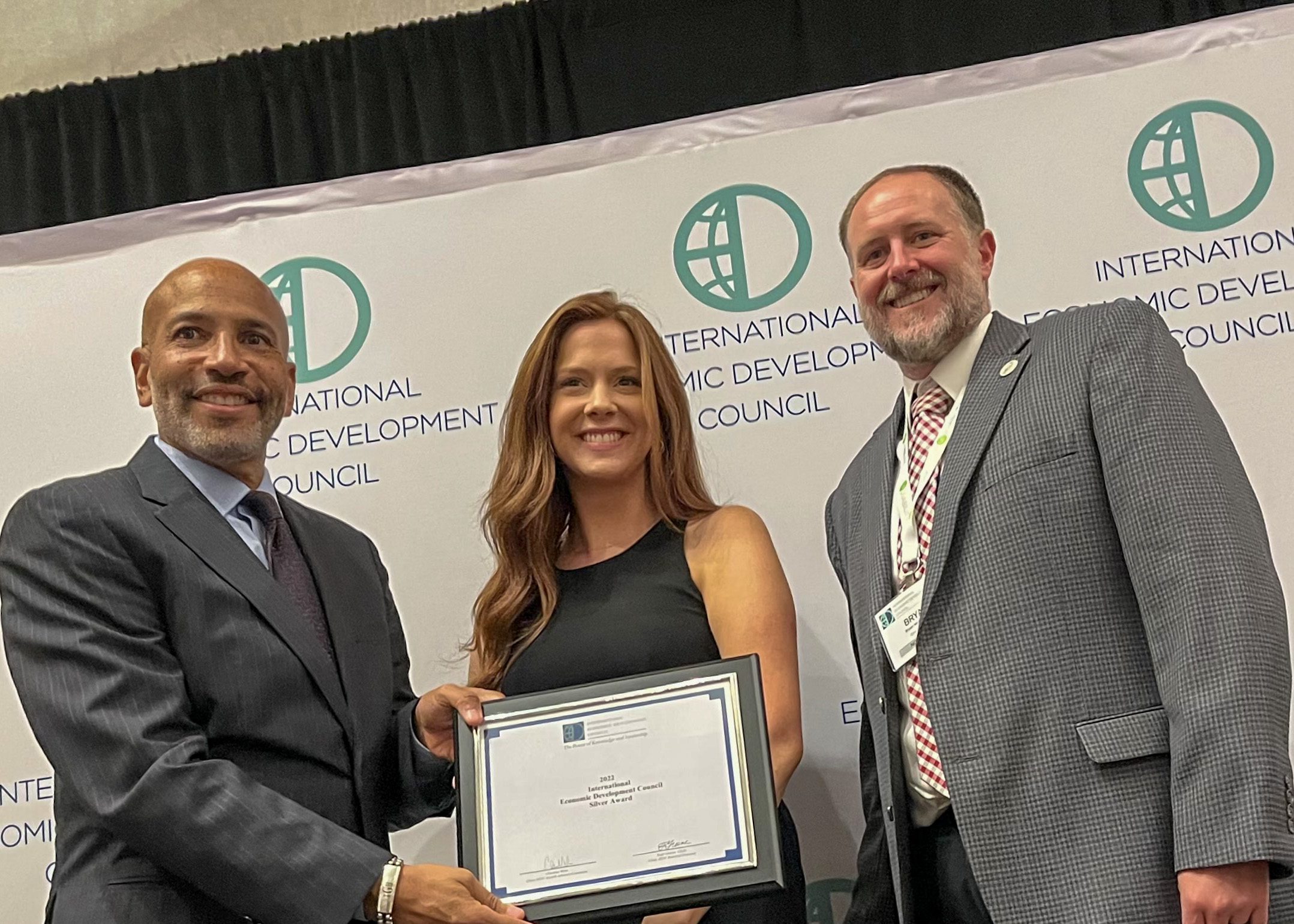 CINCINNATI – Sept. 21, 2022 – The International Economic Development Council (IEDC) has bestowed two accolades on REDI Cincinnati as part of its 2022 Excellence in Economic Development Awards. REDI was named a silver award recipient in the business retention & expansion (BR&E) initiatives category for its program and a bronze awardee in the general-purpose print promotion for its rebranding and industry collateral development.
"We are extremely grateful to IEDC for recognizing the accomplishments of two of our programs and projects, and these awards are a testament to the thoughtful, strategic planning of our staff here at REDI," said Kimm Lauterbach, president and CEO, REDI Cincinnati.
REDI Cincinnati's BR&E Program
REDI Cincinnati's BR&E program is designed to ensure local businesses continue to thrive through successful growth and expansion efforts, with the ultimate goal of maintaining and cultivating a strong business community in the Cincinnati region. The program provides local businesses with ongoing support, including gathering and analyzing valuable data and feedback, fueling local business relationships, strategically addressing barriers, assisting with site selection and providing access to a variety of resources such as talent, incentives and grants/funding.
"The BR&E program serves as a true collaboration between REDI, JobsOhio and our economic development partners at the local level," said Brittany Nicholls, Business Retention & Expansion coordinator, REDI Cincinnati. "Each year, the REDI Cincinnati team and our partners conduct more than 250 BR&E visits with local businesses and including the efforts across the tri-state Cincinnati region this number exceeds 400 visits."
And the program pays dividends. Through support provided to local companies as part of the BR&E program, Total Quality Logistics (TQL), the second-largest freight brokerage firm in North America and Cincinnati's largest private company, is investing an additional $78 million in the region.
"This development is expected to bring an additional 1,000 jobs to the region and serves as TQL's third expansion in Clermont County since 2019, with commitments totaling $146.8M in new payroll and $31.1M in capital investment," said Mike McNamara, director of economic development, Clermont County. "The project also substantially expands TQL's real estate footprint with an $18 million investment in its Ivy Pointe corporate headquarters campus in Union Township, Ohio, just off I-275."
"Our business development and project management teams, which oversee the BR&E visits, cultivate business relationships throughout the community in order to support those businesses and bolster the economic vitality of our region," stated Lauterbach. "The silver award for this program serves as a testament to the strength of the program and our staff's commitment to supporting this region."
REDI Cincinnati's Rebranding and Industry Collateral Development
REDI Cincinnati, along with design partner, Bloom Creative Group, developed a series of printed and digital marketing collateral including an Annual Report, an array of sell sheets targeted to core industries, a set of comprehensive brochures, a pocket folder to house the assets and a series of digital advertising assets. REDI's Global Business Development, Project Management and Engagement teams utilize this information as part of their attraction and cultivation efforts with companies looking to locate to the region, expand within the region, or invest in REDI's efforts to grow the regional economy.
The collateral developed as part of this project provides the most-robust materials REDI's team has had available to attract businesses and support local growth. Furthermore, the refreshed branding and graphic palette illustrate the positivity and energy of the Cincinnati region throughout all of REDI's marketing and advertising assets.
"Creating these new materials involved a true collaboration between REDI's Global Business Development, Project Management, Engagement and Marketing & Communications teams as well as our partners at Bloom Creative Group," said Gina Rittinger, vice president of marketing and strategic communications, REDI Cincinnati. "The results are beautiful pieces of collateral chock full of information about the Cincy region and its diverse business ecosystem. Thank you and congratulations to the REDI staff and our partners at Bloom Creative on this well-deserved honor."
About REDI Cincinnati
The Regional Economic Development Initiative (REDI) Cincinnati is the first point-of-contact for companies locating or growing in the 16-county region at the heart of southwest Ohio, northern Kentucky, and southeast Indiana. REDI Cincinnati is supported by top business leaders and community partners and staffed by a team of economic development experts who are uniting the Cincinnati region to compete globally.
The future is bright, and we're building it, right now. Join us at REDICincinnati.com.