Cincinnati & Kansas City Are Repping the Midwest—Again!—This Playoff Weekend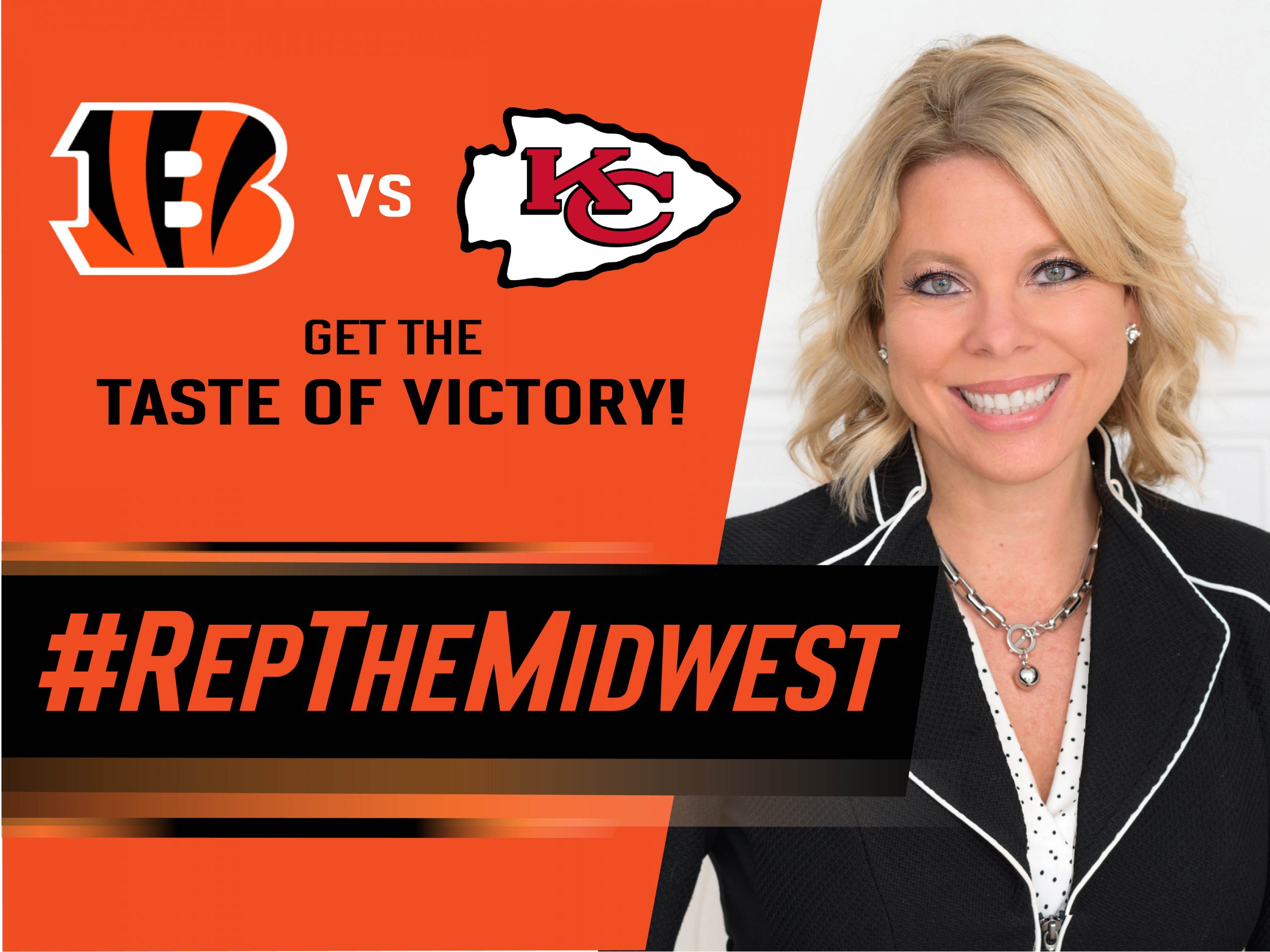 Cincinnati Wins. It's Just What We Do.
– Kimm Lauterbach, president and CEO, REDI Cincinnati
It's January of a brand-new year, which means two things around here. One, REDI is looking back on another successful year of serving the economic vitality of the Cincinnati region and jumping full steam into 2023. And two? Who Dey fever has once again overtaken the Cincinnati region!
What a time for Cincinnati football, right? We all know Bengals Nation experienced a few rough decades prior to the 2021-22 season, when the tiger-striped perennial underdogs—now led by Ohio's own superstar quarterback, Joe Burrow—fought their way all the way to a thrilling showdown at Super Bowl LVI. Are we headed to the ultimate NFL showdown again this year? Sunday's AFC Championship game looks very good for the Queen City.
As Coach Taylor has said, they have to play us, after all. Who dey think gonna beat them Bengals?
It's hard not to look at the Bengals' thrilling ascendance as, in many ways, an echo of the resurgence of the Cincinnati region as a whole. We haven't always been the economic powerhouse we are today, that's true. And we've gotten some guff over the past few decades, too, for our hopeful Midwestern moxy. (Remember when "The Good Place" called Cincinnati a "medium place"?)
Like the Bengals, though, the Cincinnati MSA always shows up. Yeah, sometimes we have to take our lumps—that's the game, isn't it? But we're always ready to flex our grit and put in the necessary work, because we know that's what makes this place great. And we know that, to win—to really win and reach the national stage—we had to get a little better every day to attract the talent needed to take Cincinnati to the next level. Talent like Joe Burrow and coach Zac Taylor; like Medpace, Fidelity, Gorilla Glue and TQL; and like the thousands of hard-working employees who keep this economic engine going strong day in and day out.
And, like the Bengals, REDI Cincinnati helped secure some big wins for Cincinnati last year. In November, for example, the Cincinnati/Northern Kentucky International Airport (CVG) announced British Airways will soon start providing direct flights to Heathrow, further connecting our Midwestern home base with the European economy and giving businesses from all over the world one more reason to consider calling this region home.
Just last month, clinical contract research organization Medpace committed to growing operations here in Cincinnati, creating an expected 1,500 new jobs with an associated payroll of $90 million over the next six years. Medpace joined companies such as Great American Life Insurance (now MassMutual Ascend), TQL and ConnectE Technology in announcing Cincinnati expansions this year, while companies such as Burtch Works and A&F Souvenir announced plans to expand into the Cincinnati region.
REDI Cincinnati had the honor of awarding five inclusion grants to area companies this year, too, building up homegrown businesses committed to the Cincinnati economy and local workforce success. And we saw some awards in 2022 ourselves, too, with recognitions from Site Selection magazine, The International Economic Development Council (IEDC), The Ohio Economic Development Association (OEDA) and a TITAN Women in Business Award to add to our downtown office's shelves.
Each of these victories was hard won, and Cincinnati's economic vitality, employment strength and attractive quality of life didn't happen on their own. And with the ever-present challenges our current economy poses to employers, workers and regional economies, we know we're going to have to work extra hard this year to keep Cincinnati resilient and strong.
The good news? We've got Midwestern grit, and we'll fight every day to help this place succeed. And this commitment to the Midwestern work ethic is exactly why we're so excited to, once again, partner with The Kansas City Area Development Council (KCADC), our KC economic development counterpart, in a friendly wager to #RepTheMidwest and all the exciting economic developments happening right here in the heartland. If the Chiefs win, we're going to sweeten their victory with some Graeter's ice cream, Maverick Chocolate and a contribution to their Parade of Hearts. And if the Bengals take home the AFC championship? Oh, we're going to savor that win with some fine KC barbeque and accept a contribution to Sam Hubbard's charity in support of Hubbard's Cupboard.
So, just like last year, Cincinnati and Kansas City will rep the Midwest before a rapt national audience on Sunday, showcasing the tenacity, resilience and economic inevitability of a powerhouse region poised and ready for unparalleled success.
Of course we want the Bengals to win, and we'll definitely don our stripes Sunday night. But come Monday morning, no matter which team takes home the victory, the Midwest will have won again in a showdown of hardworking grit and determination.
Now let's get that trophy, Joe Brr and team! WHO DEY! #RuletheJungle #RuletheAFC