REDI Cincinnati Names Five Regional Companies as James A. Wuenker Growth Award Winners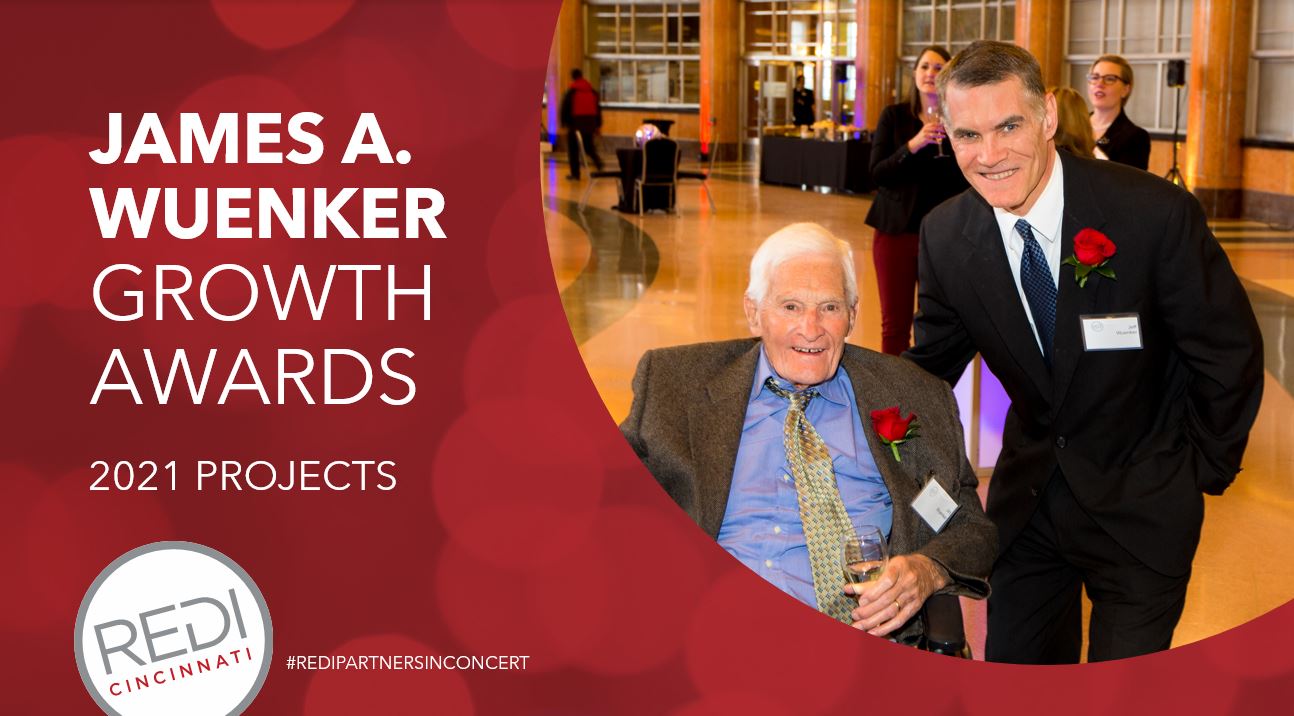 CINCINNATI, OHIO – March 11, 2022 – At its annual meeting on Thursday, March 10, REDI Cincinnati recognized five local organizations with James A. Wuenker Growth Awards. Divisions Maintenance Group, Koch Foods, Megen Construction, Nehemiah Manufacturing and Protiviti – Americas Delivery Center were honored for their impact on the Cincinnati Region through investments made during the 2021 calendar year.
Named in honor of James A. Wuenker, a respected economic developer who helped shape the future of the region, the Growth Awards are given annually to projects announced in the previous year that significantly impacted the economic vitality of the Cincinnati region.
"DMG, Koch Foods, Megen Construction, Nehemiah Manufacturing and Protiviti collectively committed to investments in the Cincinnati region that resulted in 1,100 new jobs and in excess of $210M in capital investment," said Kimm Lauterbach, REDI Cincinnati president and CEO. "The impact of these projects truly captures the spirit of Mr. Wuenker and will have positive lasting effects on the region for years to come. REDI would like to extend our gratitude to each of these companies for investing in our region, supporting job growth and serving our communities."
James A. Wuenker Growth Award Winner: Divisions Maintenance Group
Cincinnati's Central Business District in downtown received a jolt when Divisions Maintenance Group (DMG) committed to locating to The Foundry, adding 256 new jobs and investing $4.5M into leasehold improvements.
DMG, one of the nation's premier full-service providers of facility maintenance services, is making the milestone move as a result of the company's rapid growth in pursuit of becoming a $1B enterprise and aligning with the culture-centric environment. Location into the Central Business District brings all DMG staff under one roof while providing immediate access to transportation and entertainment for its employees. Job growth through the project is planned in both sales and technology fields, including product engineering and software development among other areas.
"Our move to The Foundry is all about growth and innovation," said DMG Founder and CEO Gary Mitchell. "We want our employees to have the best resources and the best facilities, and we want to use those to recruit more top talent in the region to come join our team."
"It's an exciting time for the Central Business District in Cincinnati. We are happy to be part of that growth, and we are honored to receive this award."
James A. Wuenker Growth Award Winner: Koch Foods
Located in Fairfield, Ohio, Koch Foods is constructing a second manufacturing facility within the community that adds five production lines to its poultry processing business. The company originally committed over $200M to the new plant on an 18-acre site adjacent to its current facility, but the total capital investment in the project will exceed $300M. Combining the substantial capital investment with the addition of 400 jobs created allows Koch to dramatically increase production capacity and bolster sales while further cementing its investment in the local community.
Koch Foods is known for its rich and diverse working environment, which includes staff members at its Fairfield location who call eight different languages their native tongue. It also boasts significant investment in its employees, as approximately 90% of the company's leadership originally began as hourly employees.
"Koch Foods is very pleased to announce the construction of its new Further Processed Cooking Plant within its existing Fairfield manufacturing campus," said Brian Reisen, Koch Foods general manager of further processed. "The new plant will enable the corporation to support the ever-increasing demand for fully cooked protein products." 
"In addition, Koch Foods will continue to provide career opportunities and advancement for its existing 1,500 valued team members while adding 400 more jobs to the local market."
"Koch Foods remains very grateful to the City of Fairfield for their steadfast support in many business capital expansion endeavors beginning in 1998."
James A. Wuenker Growth Award Winner: Megen Construction
Megen Construction, an award-winning minority-owned business founded in the early 1990s, is making a $1M capital investment to build a new headquarters in Forest Park, Ohio, tripling the size of its existing space. For nearly 25 years, Megen operated out of the same facility despite experiencing substantial growth and winning more than 10 awards in areas such as innovation, safety, best places to work and more. Despite that growth, the construction company kept its sights set on its customers, the local community and building the business.
Megen's investment in the Forest Park community extends beyond the capital investment as the company will add nine additional employees as part of the project. Both investments align with the culture at Megen, which takes as much pride in being both a family environment and member of the local community as it does being an award-winning construction company.
"We are extremely honored to receive the James A. Wuenker Growth Award and to be recognized with these other esteemed companies," said Evans Nwankwo, president of Megen Construction. "We would like to thank REDI, HCDC and the City of Forest Park for their continued support of Megen Construction. We have been blessed to be in such a wonderful community for the last three decades and we believe the best for us and the entire community is yet to come."
James A. Wuenker Growth Award Winner: Nehemiah Manufacturing Company
Nehemiah Manufacturing was founded in 2009 with "the mission to build brands, create jobs, and change lives." Nehemiah's e-commerce business surged during the COVID-19 pandemic, a time in which supply-chain constraints also grew and required the company to increase its inventory from just-in-time to just-in-case. More employees were needed to meet the increased business demands, and additional space was required to accommodate the expanded inventory.
As a result, Nehemiah doubled down on its commitment to Lower Price Hill. An initial $3.6M capital investment has expanded to $4.8M for the construction of a new 50,000 sq. ft. manufacturing facility in a previously vacant lot, which required significant cleanup and remediation. Nehemiah's growth also includes the addition of 15 new jobs, bringing its number of full-time equivalent positions to nearly 140 and further illustrating its dedication to creating job opportunities for individuals who have challenges finding employment.
This new space will provide additional growth and logistics that will directly support Nehemiah's Direct-to-Consumer fulfillment businesses. These business units have seen a 50% growth in sales over the past year and plan to accommodate additional fulfillment opportunities. Nehemiah partners closely with Procter & Gamble on several trademark licensing, contract manufacturing, e-commerce fulfillment and kit packing/distribution. Some of the brands that fall under Nehemiah's brand-building capability include: Kandoo, Tide, Febreze, Dreft and Downy.
"We continue to stand by our mission of building brands, creating jobs and changing lives," commented Dan Meyer, CEO of Nehemiah Manufacturing. "This new space is a direct result of our commitment to our city and those that deserve a second chance. We couldn't be more thrilled to work with city officials and our growing list of partners to see this new expansion come to life."
"We are beyond excited to be able to continue the growth of our ministry in our neighborhood of Lower Price Hill. This expansion paves the way for continued growth and higher-paying jobs. We cannot thank the City of Cincinnati, The Port of Greater Cincinnati, and JobsOhio enough for their partnership in making this new facility a reality.", said Chris Lahni, CFO of Nehemiah Manufacturing.
James A. Wuenker Growth Award Winner: Protiviti – Americas Delivery Center
As Protiviti navigated its national search to determine a location for its Americas Delivery Center, the Cincinnati region stood out. It is centrally located and provides access to a labor market that features candidates with diverse attributes from a wide variety of backgrounds, including degree/non-degree, re-entry, neurodiverse and more.
As a result, Protiviti settled on a location in the City of Blue Ash and committed to creating about 450 full-time positions within four to five years in addition to investing significantly in its facility. That significant growth brings tremendous professional opportunities for employees, including developing leadership, management, technical and operational skills as they provide standardized, technology-enabled and highly cost-effective services for Protiviti's clients. The global firm, which is renowned for its tailored approach to providing consulting and managed solutions in finance, technology, operations, data, analytics, governance, risk and internal audit services, employs over 7,000 people in more than 85 offices across 25 countries worldwide. Protiviti's vision for the Americas Delivery Center emphasizes positively impacting the local community.
"The region's business-friendly environment and access to talent were strong factors in our decision to establish our Americas Delivery Center in the Cincinnati market," said Cory Gunderson, executive vice president and leader of global solutions for Protiviti. "We also appreciate the collaboration with the teams at JobsOhio, REDI Cincinnati and the Ohio Development Services Agency, which reinforced our decision to select Ohio. We're excited to be an employer of choice and hire local folks to help serve our global client base."
About REDI Cincinnati
The Regional Economic Development Initiative (REDI) Cincinnati is the first point-of-contact for companies locating or growing in the 16-county region at the heart of southwest Ohio, northern Kentucky, and southeast Indiana. REDI Cincinnati is supported by top business leaders and community partners and staffed by a team of economic development experts who are uniting the Cincinnati region to compete globally.
The future is bright, and we're building it, right now.
About JobsOhio
JobsOhio is a private nonprofit economic development corporation designed to drive job creation and new capital investment in Ohio through business attraction, retention and expansion. The organization also works to seed talent production in its targeted industries and to attract talent to Ohio through Find Your Ohio. JobsOhio works with six regional partners across Ohio: Dayton Development Coalition, Ohio Southeast Economic Development, One Columbus, REDI Cincinnati, Regional Growth Partnership, and Team NEO. Learn more at www.jobsohio.com. Follow us on LinkedIn, Twitter and Facebook.