REDI Cincinnati Recognized at Ohio Economic Development Association and International Economic Development Council Annual Awards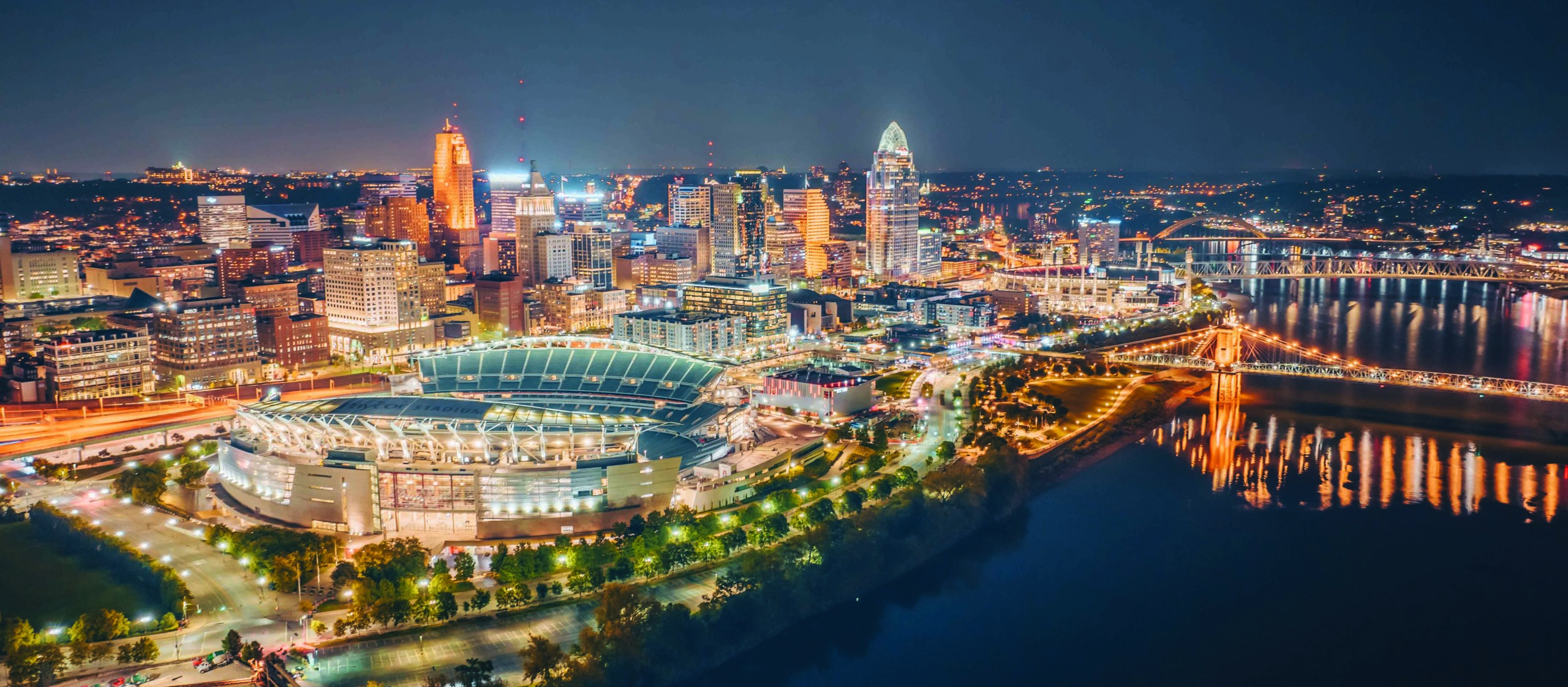 CINCINNATI, September 20, 2023 – REDI Cincinnati is proud to announce that it was selected as a runner-up in two categories at the Ohio Economic Development Association's (OEDA) Annual Excellence Awards. OEDA's recognition was delivered on September 15 during OEDA's Annual Conference. REDI Cincinnati was also recognized as a bronze winner for public-private partnerships at the International Economic Development Council's (IEDC) Annual Conference on September 19.
REDI Cincinnati, in partnership with the City of Cincinnati, The Port of Greater Cincinnati Development Authority and JobsOhio, received recognition as runner-up for Best Project Award for its work with Emerge Manufacturing at OEDA and a bronze winner at IEDC. REDI Cincinnati's international 'C Yourself in Cincy' campaign was also a runner-up for the Excellence in Marketing and Communications Award at OEDC.
"I could not be prouder of the REDI Cincinnati team. These nominations exemplify partnership and collaboration, focusing on what makes our region the best for business," said Kimm Lauterbach, REDI Cincinnati president and CEO. "Recognition in these categories showcases our ability to drive direct local impact and reach an international audience to promote our region."
Cynthia Booth founded Emerge Manufacturing as a minority-owned and led company to help onshore personal protective equipment (PPE) manufacturing in the United States, with a particular focus on supporting the traditionally underserved Roselawn and Bond Hill neighborhoods of Cincinnati.
The Port of Greater Cincinnati Development Authority demolished the Cincinnati Gardens arena in 2018 and remediated the property with assistance from JobsOhio, REDI Cincinnati and the City of Cincinnati.
"The Emerge Manufacturing project highlights the success when a diverse set of organizations collaborates toward a common goal," said Kevin Donnelly, REDI Cincinnati vice president of project management. "Revitalizing and delivering jobs to the community were the most important goals, and we accomplished that with our partners at JobsOhio, the City of Cincinnati, The Port and Emerge Manufacturing."
"I am honored our company Emerge Manufacturing received the runner-up recognition at the OEDC Excellence Awards in Columbus, Ohio, and bronze winner at the IEDC Economic Development Awards," said Cynthia Booth, Emerge Manufacturing president and CEO. "Many thanks to REDI Cincinnati for submitting our project for these awards and their ongoing support of Emerge."
"The City of Cincinnati's Department of Community & Economic Development (DCED), along with our partners at REDI Cincinnati and The Port, are honored to see Emerge Manufacturing named as runner-up for 'Best Project' at the OEDA 2023 Excellence Awards and bronze winner at IEDC," DCED said in a statement. "This project will transform a vacant, unused site into something productive that will meaningfully improve the quality of life for our Bond Hill and Roselawn neighborhoods. This is what happens when Cincinnati invests in Black-and-woman-owned businesses and residents are brought to the table; it is a prime example of community-driven economic development and thoughtful, inclusive investment."
DCED added, "Thanks to the hard work of City staff, members of the business community, and community leaders, this project will provide more than one hundred high-quality good-paying jobs for local residents in a neighborhood historically underinvested-in, all while supporting our healthcare network and revitalizing a major corridor. We are proud to have leveraged our CRA Commercial Tax Abatement program to ensure this project was successful and are grateful to our partners who assisted with the initial redevelopment of this land into a development-ready site."
"We're thrilled to see a spotlight shined on this collaborative initiative, bringing nearly 100 jobs to Bond Hill and Roselawn," said Laura N. Brunner, President and CEO of The Port. "When we demolished the Cincinnati Gardens in 2018, we created three separate parcels on the site to attract the greatest amount of investment in order to reignite Cincinnati's prominence as a Midwest manufacturing hub.
"This recognition affirms our job creation strategy is working," Brunner added.
Collaboration also proved vital in REDI's "C Yourself in Cincy" international advertising campaign. The "C Yourself in Cincy" messaging is a collaborative regional alignment with our partners at Visit Cincy, Meet NKY, and Cincinnati Experience, which highlights Cincinnati's story on the national, regional and local levels.
Aligned with the Global Brand pillar of our 5-year strategic plan, REDI Cincinnati expanded its international business attraction digital ad campaign in 2023 to include enhanced digital assets such as translated GIFs and subtitled video content as part of its "C Yourself in Cincy" campaign. While previously focused on the European markets, REDI's marketing and communications team augmented those efforts to include portions of the Asian market as well.
Strengthening our international marketing efforts through regionally aligned messaging, enhanced digital assets and expanded market reach is paying dividends. Midway through 2023, REDI had already experienced a 160% year-over-year increase in European advertising clicks.
"This success is due in large part to the support provided by our internal REDI team as well as our external partners," said Bryan McEldowney, REDI Cincinnati's vice president for marketing and strategic communications. "Gina Rittinger, who currently serves as our vice president for strategic growth, originally established the framework and partnerships for the campaign, and we would like to recognize her for those efforts. We also express our gratitude to Visit Cincy, Meet NKY, Cincinnati Experience, Bloom Creative Group, The AGAR, DCI and Terralingua Translation for their collaboration. As a result of these collective efforts, the Cincinnati region is being better positioned internationally as a place where business reigns."
OEDA's Best Project Award recognizes outstanding and innovative projects based on retention, attraction, redevelopment, or infrastructure in economic and business development that retain or generate jobs and capital investment. This award showcases a unique approach to the project, which can include a public-private partnership, local collaboration, innovative financing and/or incentives.
OEDA's Marketing and Communication Award recognizes successful economic development marketing projects or marketing campaigns. Examples include target market studies, branding, websites, direct mail, consultant events, public relations campaigns, social media campaigns and advertising.
IEDC's Public-Private Partnership award recognizes outstanding and innovative development projects that have significantly enhanced revitalization of communities, states, or regions.
About REDI Cincinnati
The Regional Economic Development Initiative (REDI) Cincinnati is the first point-of-contact for companies locating or growing in the 16-county region at the heart of southwest Ohio, northern Kentucky, and southeast Indiana. REDI Cincinnati is supported by top business leaders and community partners and staffed by a team of economic development experts who are uniting the Cincinnati region to compete globally. The future is bright, and we're building it, right now. Join us at REDICincinnati.com.
About Emerge Manufacturing
Emerge Manufacturing is a U.S.-based on-shore manufacturing company that specializes in the production of personal protective equipment for healthcare, hospitality, and industrial organizations.
About The Port
The Port was formed in 2001 to stimulate growth of the regional economy. Partnering with the City of Cincinnati and Hamilton County, The Port works to redevelop manufacturing and residential communities to build the foundation of job creation and livable, viable communities where residents can experience economic prosperity. For additional information, please visit http://www.cincinnatiport.org.
About the City of Cincinnati Department of Community and Economic Development
The City of Cincinnati's Department of Community and Economic Development improves the lives of residents, increases business investment, and revitalizes City Neighborhoods by providing financial and technical resources, facilitating strategic partnerships, and promoting efficient use of the City's on and off-street parking assets through parking management.