Leak testing manufacturer announces expansion in the City of Harrison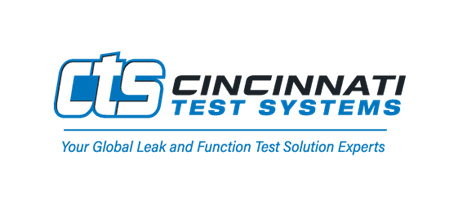 CINCINNATI – March 27, 2023 – Cincinnati Test Systems ("CTS"), a manufacturer of leak and function testing instruments and systems, announced it is expanding its operations in the Cincinnati region. The State of Ohio, JobsOhio, REDI Cincinnati and the City of Harrison provided assistance for the company's growth, which includes the addition of new jobs and a 27,000-square-foot addition to its Harrison, Ohio, operations.
"After several years of growth, this expansion of our headquarters will help us better meet the demands of our global customers," said Mike Tanniru, general manager, CTS. "The support of the State of Ohio, JobsOhio, REDI Cincinnati and the City of Harrison demonstrates the commitment of these organizations to create an environment where businesses, like CTS, can thrive."
Established in southwest Ohio in 1981, CTS has grown into an industry leader in leak and function testing. CTS provides leak testing solutions for manufacturers both large and small around the world, serving a multitude of industries including medical devices, electric vehicles, military and defense, energy, consumer electronics and more.
CTS is adding 27,000 square feet to its facility in Harrison, providing a 50% increase in manufacturing and engineering space to further support its growth. The expanded footprint allows CTS to increase leak test capabilities support to original equipment manufacturers (OEMs), machine builders and industrial companies.
Employment opportunities will include roles in engineering, project management, assembly and purchasing.
"For more than 40 years, CTS has found success in Ohio, supporting a variety of industries through its precision leak detection systems and equipment," said J.P. Nauseef, President and CEO, JobsOhio. "CTS' expansion plans will create new jobs and accommodate current and future growth as its customers rapidly advance technology in electric vehicles, aerospace, medical devices and more."
"The Cincinnati region has a rich history of proven advanced manufacturers," said Kevin Donnelly, vice president of project management, REDI Cincinnati. "CTS is yet another example of a manufacturer that continues to grow and thrive in the region due to their access to the market, business climate and an educated workforce developed through our world-class educational institutions."
Harrison Mayor Bill Neyer said, "We are extremely pleased that CTS chose to expand here. The City's granting of a 15-year structural tax abatement to the company enables them to not only grow in our community but also retain their existing 200+ employees in Harrison. The company has always been a great community partner and we look forward to many more years of our strong relationship."
About Cincinnati Test Systems
Since 1981 Cincinnati Test Systems, Inc. (CTS) has delivered precision leak detection equipment, functional test systems and assembly verification testing to manufacturers around the world. Offering the industry's largest family of leak test instrumentation covering all common test methods, CTS helps EV, transportation, medical device, consumer electronics, appliance, and other industrial manufacturers ensure quality of their products. CTS is part of the TASI Group's Product Integrity organization, which includes innomatec Leak Test Solutions, Sciemetric, and Sierra-CP Engineering. Headquartered in Harrison, OH, CTS has sales and support offices in the U.S., Mexico, Europe, India, and China. Learn more at www.cincinnati-test.com.
About REDI Cincinnati
The Regional Economic Development Initiative (REDI) Cincinnati is the first point-of-contact for companies locating or growing in the 16-county region at the heart of southwest Ohio, northern Kentucky, and southeast Indiana. REDI Cincinnati is supported by top business leaders and community partners and staffed by a team of economic development experts who are uniting the Cincinnati region to compete globally.
The future is bright, and we're building it, right now. Join us at REDICincinnati.com.
About JobsOhio
JobsOhio is a private nonprofit economic development corporation designed to drive job creation and new capital investment in Ohio through business attraction, retention and expansion. The organization also works to seed talent production in its targeted industries and to attract talent to Ohio through Find Your Ohio. JobsOhio works with six regional partners across Ohio: Dayton Development Coalition, Ohio Southeast Economic Development, One Columbus, REDI Cincinnati, Regional Growth Partnership, and Team NEO. Learn more at www.jobsohio.com. Follow us on LinkedIn, Twitter and Facebook.
About the City of Harrison
The City of Harrison is one of the region's fastest-growing communities, with residential growth from 9,000 residents in 2010 to almost 15,000 today. In addition to the CTS expansion, other recent local company projects include the expansion of Crown Plastics, the $50 million JTM Foods expansion, and Hillwood, LLC's recent completion of a 535,000 speculative building. Our City is greatly appreciative of the team approach employed by REDI and JobsOhio to enable these projects.