16 Small Businesses Create 90 Jobs in Southwest Ohio Thanks to Inclusion Grant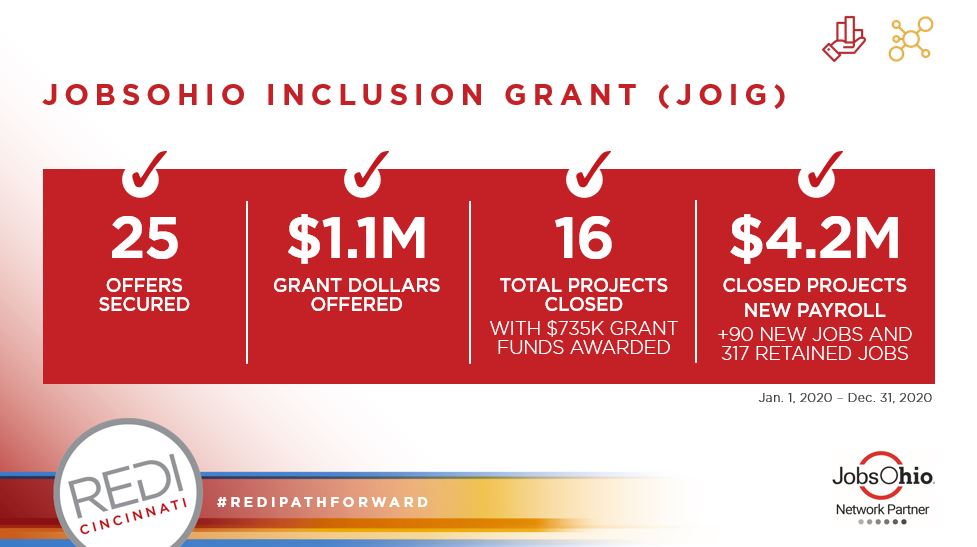 CINCINNATI, OH – APRIL 7, 2021 – REDI Cincinnati announced today that 16 companies in Southwest Ohio received a JobsOhio Inclusion Grant in 2020, which supported the creation of 90 jobs, retaining 317 existing jobs, with a total of $735,000 in grants. Statewide, the program awarded over $4 million in grant funding during the first phase.
The Cincinnati region led the state of Ohio in grant funds offered – in addition to supporting the most minority-owned businesses through the new grant program. REDI Cincinnati was able to secure $1.1 million of grant support in 2020 to southwest Ohio small to medium-sized businesses in distressed communities and/or for businesses owned by underrepresented populations with the JobsOhio Inclusion Grant. The $1.1 million secured was offered to more than 25 companies (and was the highest mark in the state of Ohio for 2020, amongst the JobsOhio Network Partners). Sixteen of the 25 projects closed in 2020, representing $735,000 of the $1.1 million in grant offers.
The inclusion grant program was established in 2020 by JobsOhio with the goal of supporting minority, veteran, and women-owned businesses, as well as disadvantaged communities. The needs met by the grant have been further heightened by the COVID-19 pandemic which has magnified the challenges small businesses, including those with underrepresented leadership, experience with accessing capital.
"Over the last decade, more than half of all new businesses started in the country have been minority-owned and led, but they still struggle getting access to capital," said Brandon Simmons, REDI Cincinnati vice president of project management. "JobsOhio's commitment to supporting underrepresented businesses and communities through its inclusion grant is already paying dividends in Southwest Ohio."
The second round of funding is currently open as of March 1, 2021. To qualify for the Inclusion Grant, a company must be owned by an underrepresented population – which includes consideration of geographic location, race, ethnicity, gender, veterans, and those with disabilities – or it must be located in a qualified distressed community as defined by the Economic Innovation Group. The grant may be put towards eligible costs including fixed asset investment in machinery and equipment, real estate investments and training costs, among other items.
The grant is available for all 5 counties in Southwest Ohio in the Cincinnati region. The below 16 companies were awarded JobsOhio's Inclusion Grant in 2020.
DNK Architects, Inc.
ATMOS 360 Manufacturing LLC
TriVersity Construction Company, LLC
SURE Mechanical, LLC
RiskVersity, LLC
HYUR Staffing Services LLC
Gateway Logistics, Inc.
C H Smith & Associates, LLC
Innovative Card Solutions, LLC
Trans-States Express, Inc.
The Painting Contractor, LLC
Orchestrate LLC
Journey Steel, Inc.
Micropyretics Heaters International Inc.
Trio Trucking, Inc.
Management Performance International, Inc.
See below for more first-hand testimonials from our Inclusion Grant recipients:
About JobsOhio
JobsOhio is a private nonprofit economic development corporation designed to drive job creation and new capital investment in Ohio through business attraction, retention, and expansion. The organization also works to seed talent production in its targeted industries and to attract talent to Ohio through Find Your Ohio. JobsOhio works with six regional partners across Ohio: Dayton Development Coalition, Ohio Southeast Economic Development, One Columbus, REDI Cincinnati, Regional Growth Partnership, and Team NEO. Learn more at www.jobsohio.com. Follow us on LinkedIn, Twitter, and Facebook.
About REDI Cincinnati
The Regional Economic Development Initiative (REDI) Cincinnati is the first point-of-contact for companies locating or growing in the 16-county region at the heart of southwest Ohio, northern Kentucky, and southeast Indiana. REDI Cincinnati is supported by top business leaders and community partners and staffed by a team of economic development experts who are uniting the Cincinnati region to compete globally.
The future is bright, and we're building it, right now.