UC's 1819 Innovation Hub linchpin for Uptown workforce development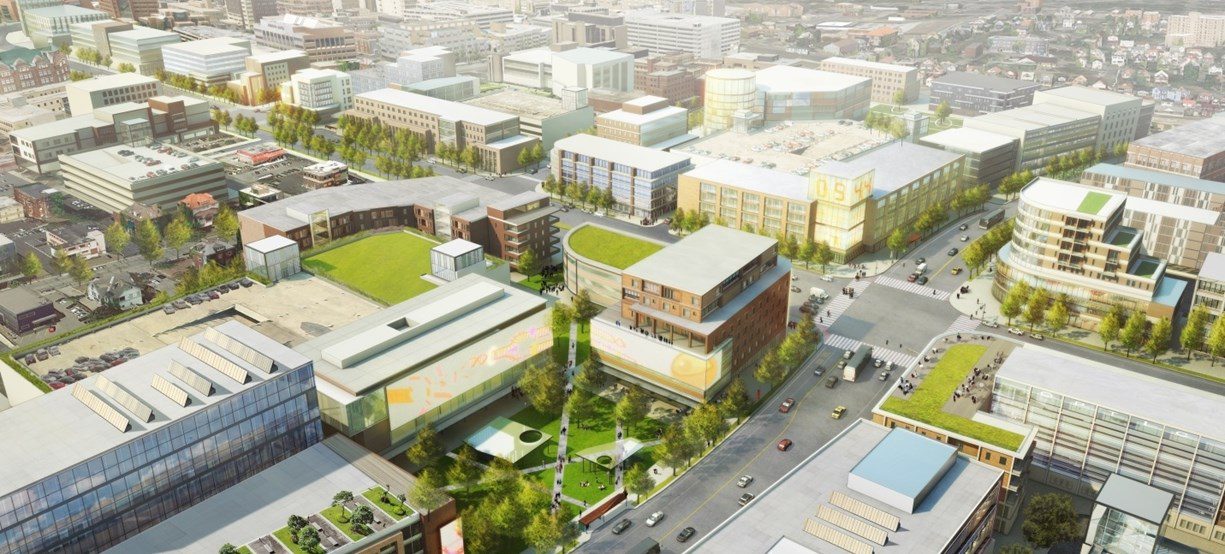 (Photo courtesy Uptown Consortium, Inc.)
One mile north of downtown Cincinnati, the area known as the Uptown Innovation Corridor has long represented a convergence of world-class academics, medicine and research. Now, thanks to a partnership between the University of Cincinnati and Procter & Gamble, those sectors and others have joined forces via UC's 1819 Innovation Hub and Venture Lab, and its resident startups are already locking down seed capital from Cincinnati to San Francisco.
Named for the year UC was founded, the 1819 Innovation Hub occupies the four-story Art Deco building at 2900 Reading Road that was once a Sears & Roebuck. The hub opened last summer, housing a makerspace, event center, gallery, dining area, satellite corporate space and innovation labs where UC students collaborate with industry leaders to tackle a range of 21st-century business innovation challenges. The project represents a $38 million investment by UC in the community.
The first floor's 12,000-square-foot makerspace features tools for creators of all skill levels, including hand tools, 3-D printers, laser cutters and CNC machines, will be available for use. Second floor main features include several classrooms, conference rooms and a multipurpose space capable of accommodating up to 150 guests, making it the primary gathering area of the building.
(Photo courtesy UC 1819 Innovation Hub)
REDI VP of Operations and Strategic Initiatives Josh Wice emphasized the hub's value in serving the region's companies seeking top-tier talent across industry clusters.
"This will help enable industry partners to access the vast expertise and research capabilities the university offers, while ensuring rising local talent gets a step ahead of their peers with opportunities for career exposure and experience," says Wice. "Aligning academic and workforce needs will be a winning economic model for our region as we continue to innovate to meet the needs of our students and businesses. This is just the latest example of why Greater Cincinnati has been selected for the second year in a row in 2017 as the Best City for College Grads."
Creating positive 'collisions' 
Meanwhile, investors and developers alike are showing renewed interest in the properties surrounding the 1819 Innovation Hub at the Martin Luther King/I-71 interchange. Many share REDI's mission to prioritize native innovators and the tech talent influx. Plans have been made to invest $150 million at the southeast corner of Reading Road and MLK Blvd. The first phase of the project will wrap up this summer and introduce approximately 300,000 square feet of office space, a 200-room hotel and 1,200-space underground parking garage.
As UC's first-ever Chief Innovation Officer and CEO of the UC Research Institute, David Adams expressed his enthusiasm at the 1819 Innovation Hub's potential for aggregating talent across all UC disciplines while serving as a catalyst for the companies moving into the Innovation Corridor that represent diverse industries ranging from food and flavoring to aerospace technology.
"The shared collaborative spaces on each floor will be used to create 'collisions.' Our students will stand shoulder-to-shoulder with industry, not-for-profits and faculty leaders as well as other students," Adams said. "That will mean DAAP students colliding with nursing students, colliding with engineering students and more. This be the place where magic happens as a result of those innovative collisions."
Building on that promise, UC has announced a 10-year partnership with Cincinnati Bell to support the Innovation Hub as a collaborative home for corporate partners who want a direct connection to talented UC students. Cincinnati Bell established a presence at the 1819 Innovation Hub last spring, and Adams described the partnership as "the first of many" for the space.
Activating a corridor
Organizers and partners also expect the 1819 Innovation Hub will spur economic growth in the Uptown community.
"Projects like this are essential to integrating the Innovation Corridor into the Uptown community," says Beth Robinson of partner organization Uptown Consortium, Inc. Using a combination of city and private funds, the Uptown Consortium has infused more than $1 billion worth of investment in the corridor including 400,000 square feet of office space; 350,000 square feet of retail space and more than 2,700 housing units. The group works to further a strategic vision for the four-block corridor that features interrelated goals of:
Connecting local talent to employment opportunities in the corridor
Creating a sense of place through smart urban design
Promoting mobility through strengthened transportation infrastructure
Supporting community health with increased walkability and green space preservation
"The message is really, 'If you live in Uptown, come work in these four blocks and enjoy the opportunities and amenities this area has to offer,'" says Robinson.