Tapping into a Talent Pool of Job-Ready Candidates with OOD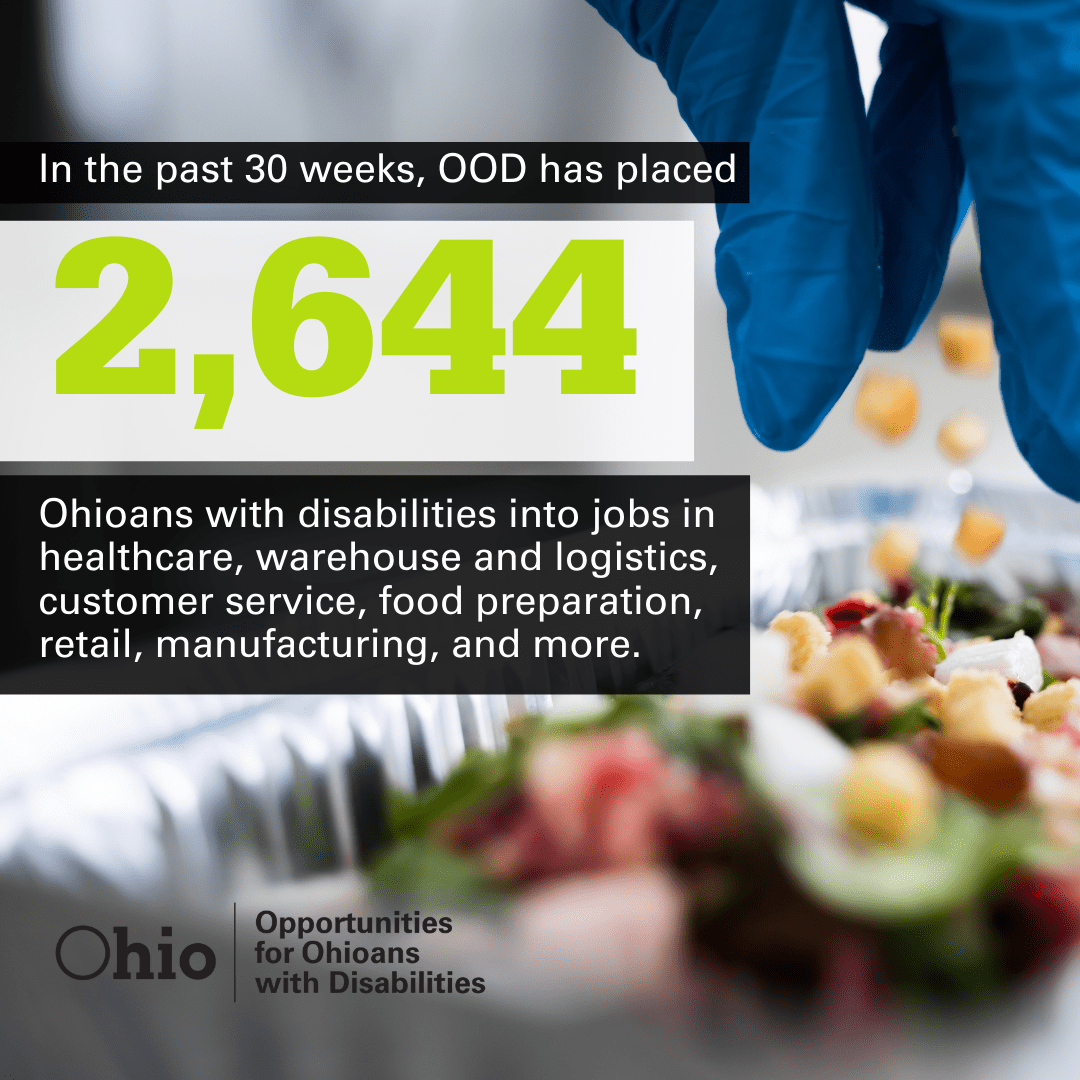 5 MINUTE Q&A WITH REDI CINCINNATI'S TALENT DIRECTOR + OPPORTUNITIES FOR OHIOANS WITH DISABILITIES (OOD)
REDI Cincinnati's Talent Director, Adam Jones, had an opportunity to speak with Opportunities for Ohioans with Disabilities' Business Relations Specialist, Cynthia Crews, on how OOD is supporting regional companies in the talent search even through COVID-19. This 5-minute Q&A highlights OOD's commitment to making sure people with disabilities are a valued resource for workforce development in Ohio.
Can you tell us a little bit about Opportunities for Ohioans with Disabilities and the work you do in the Cincinnati region?

Cynthia Crews: Opportunities for Ohioans with Disabilities (OOD) is the state of Ohio agency that partners with business, education, and non-profits to facilitate individualized employment plans for Ohioans with disabilities and helps Ohio employers recruit and retain employees with disabilities. Our team works tirelessly to make sure that people with disabilities are a valued resource for workforce development. This idea is fundamental to the State of Ohio. In fact, Governor Mike DeWine has been a huge proponent of disability employment in Ohio. On his very first day, within minutes of taking office, he signed an Executive Order establishing Ohio as a disability inclusion state and model employer of individuals with disabilities. That order created a new position for a statewide Americans with Disabilities Act (ADA) Coordinator. It also opened a door for apprenticeships in state government positions. The order also required disability etiquette and awareness training for more than 50,000 state employees, and we were able to create virtual training tools to accommodate that. Our agency director, Kevin Miller, is a member of Governor DeWine's cabinet and the Governor's Executive Workforce Board. Over the last 30 weeks (during the COVID-19 pandemic), our team was able to help more than 2,644 job seekers with disabilities get jobs. That number is a true testament to our staff, counselors, and employer partners that we have across the state of Ohio.

Are you able to clarify how the term "disability" is classified for OOD?

Cynthia Crews: For additional clarification, OOD assists people with visual, auditory, mobility, mental health, and cognitive disabilities who are experiencing barriers to employment because of their disability. This can also include individuals who experience an onset of a disability and need support to get or keep a job. We can begin serving students as young as age 14 (during critical years of self-esteem development) with no age limit.

We are hoping to bust some myths today about employing people with disabilities. Can you speak to national data around disabilities?

Cynthia Crews: Yes, I am happy to dispel a few myths. We start most of our disability awareness training by sharing that people with disabilities are the largest minority group in the United States today. It is the only minority classification in which any one of us could join at any point in our life. The majority of disabilities are invisible – that means a physical, mental, or neurological condition that is not obvious. It is estimated that of all employees with a disability, 62 percent have an invisible disability. The second point we speak to is the research that has been done, which shows that people with disabilities have a better retention rate in the workforce than people without disabilities, meaning they stay on the job longer, there is less absenteeism, and workers with disabilities perform as well on the job as those without disabilities. Contrary to popular belief, there is no statistically significant impact on employers' health insurance rates or workers' compensation rates. We've had employers ask about the cost of accommodations – and the reality is that more than half of accommodations are free, and those that are not free have a median cost of $500.

What is the benefit of an individual or a company working with OOD?

Cynthia Crews: The benefit of an individual or company working with our agency is that we believe in a two-pronged approach. We want to make sure it is the right fit for the job seeker and the company. We are your partners. We offer team training and education to make sure the workplace is successful at a micro-level. Our employment counselors have consistent communication with the employee for at least the first 90 days. We have heard many stories that employing people with disabilities increases workplace pride. Over the years, we have had great relationships with logistics and packaging companies. Some employers assume incorrectly that workers who are deaf or hard of hearing will cause safety hazards, increase employment costs, or have difficulty communicating in fast-paced environments. In reality, with or without reasonable accommodation, individuals who are deaf or hard of hearing can be effective and safe workers. We could go on all day busting myths.

How does Opportunities for Ohioans with Disabilities match the skill sets and experiences of job-seekers to local businesses? Can you share some of your successful programs with us?

Cynthia Crews: Six years ago, our agency had 11 partners. Today we have over 570 business partners across the state of Ohio. We have Talent Sourcing Coordinators in Cincinnati and Dayton, who work extremely closely with our counselors. Those counselors work hand in hand with job seekers to help them prepare for and get jobs. Last year, we had the opportunity to launch a new program called "Ohio College2Careers". Through this program, OOD immerses a full-time counselor to serve students with disabilities at 15 public two-year and four-year colleges and universities across the state of Ohio. In Southwest Ohio, we are currently working with Miami University, the University of Cincinnati, and Wright State University. This program bolsters the efforts to get college students with disabilities internships, apprenticeships, co-ops, and of course, a permanent career. We've seen a lot of success with this program, and the schools have been great partners.

Speaking of partners, we love partnerships in the Cincinnati region. Can you speak to how you've partnered with additional regional businesses like Cintas, Fifth Third Bank, and Kroger, to provide inclusive opportunities in the workplace?

Cynthia Crews: We have been fortunate to partner with many Cincinnati region companies. To give a few examples, Fifth Third Bank was one of our first partners on a high school program that included internships. The Kroger Company, who was this year's "2020 Champion of Inclusion" award winner, has been a model employer of individuals with disabilities. Kroger has offered job shadowing programs in all its corporate departments, including purchasing, planning, culinary, and even architecture. One week into the pandemic, Kroger reached out to see how they could better communicate and prepare for the challenges of COVID-19 amongst their staff with disabilities (locally and nationally). Our team got started on fact sheets and additional communication right away. Another regional example is Cintas. We were able to partner with them on roles that have extremely high turnover rates, as well as with companies like Honeymoon Paper (recently acquired by Southern Champion Tray), Amazon, Miami University, and many others, who continue to partner with our agency as we find cost-saving solutions in a tight employment market.

Any last-minute reminders for companies that may still have a few questions?

Cynthia Crews: OOD is the state agency responsible for providing individuals with disabilities opportunities to achieve quality employment. We have a talent pool of job-ready candidates and provide support to businesses in the hiring and retaining of people with disabilities. This includes free hiring events, disability inclusion training, worksite accessibility consultations, and access to information about available tax incentives. Disability employment is also a way for companies to strengthen diversity and inclusion efforts. Companies in the Cincinnati region can contact me directly at cynthia.crews@ood.ohio.gov.
For more information on Opportunities for Ohioans with Disabilities, visit: https://ood.ohio.gov