StandardAero Moves to Hire 250-300 After Opening 200,000 sq. ft. Sharonville Facility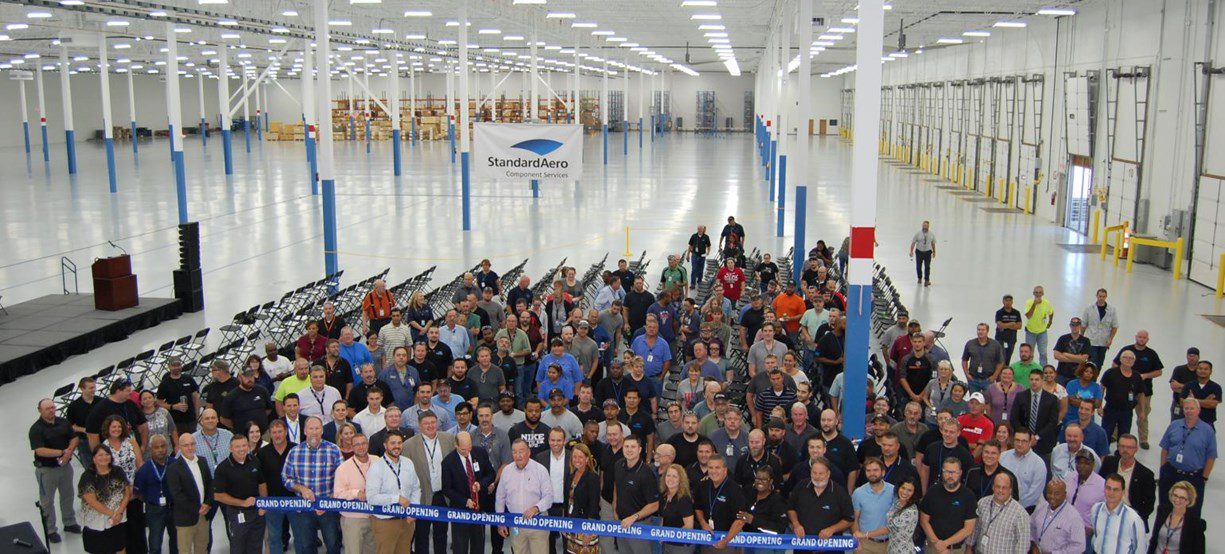 After opening its newest facility in Sharonville, Ohio, aerospace maintenance and repair provider StandardAero Component Services will expand and hire 250-300 technicians and other employees to meet growth demands and better serve its customers.
The company's expansion into an adjacent building opened in September of 2018 and will accommodate growth in its military and commercial aircraft engine component repair business.
"The entire aerospace industry is seeing tremendous growth in demands for component repair, so we are stepping up to directly support our customers and address the rapid need for more capacity," said Rick Stine, President of StandardAero Components, Helicopters & Accessories division.  "We'd like to thank the City of Sharonville, REDI Cincinnati and JobsOhio for helping to create a business-friendly community and supporting our expansion and new hiring efforts."
The $10 million expansion will assist StandardAero's efforts to quickly fill 70 open positions with the goal of adding 250-300 employees at the new facility. REDI Cincinnati and JobsOhio are supporting the company's hiring efforts by providing talent acquisition services along with local partners. While collaborating with StandardAero, partners will develop programs unique to the region, which will train technicians to fill StandardAero's open positions. Additionally, the City of Sharonville approved a Job Creation Incentive Grant for new jobs created as a result of this expansion project.
"We are excited to see strong demand for StandardAero's maintenance, repair and overhaul services bring hundreds of aerospace jobs to Southwest Ohio," said JobsOhio Managing Director for Aerospace and Aviation Glenn Richardson. "We look forward to working closely with StandardAero as it expands its Sharonville facilities to support is customers throughout the world."
"StandardAero has placed its trust in Sharonville and the Greater Cincinnati region to find the talent it needs to continue to grow", said Kimm Lauterbach, REDI Cincinnati President/CEO. "We look forward to working with the company and our education partners in the region to build a first-class training program."
"StandardAero has been valuable part of our business community for many years", said Chris Xeil Lyons, Economic Development Director for the City of Sharonville. "Assisting them with their aggressive growth plans has been very exciting, this project is a fantastic opportunity to create meaningful manufacturing jobs here in Sharonville."
The company encourages jobseekers to visit the below website for additional information on specific positions:  http://www.standardaero.com/AboutUs/Careers.aspx
About StandardAero
StandardAero is one of the world's largest independent providers of services including engine and airframe maintenance, repair and overhaul, engine component repair, engineering services, interior completions and paint applications.  StandardAero serves a diverse array of customers in the business & general aviation, airline, military, helicopter, components and energy markets. The company celebrated its 100th year of industry leadership in 2011.  In 2015, StandardAero was purchased by Veritas Capital, a leading private equity firm headquartered in New York City.  Veritas invests in companies that provide critical products and services to government and commercial customers worldwide, including those operating in aerospace & defense, healthcare, technology, national security, communications, energy and education.  More information can be found on the company's website at www.standardaero.com.