REDI Cincinnati Receives Excellence in Economic Development Award from the International Economic Development Council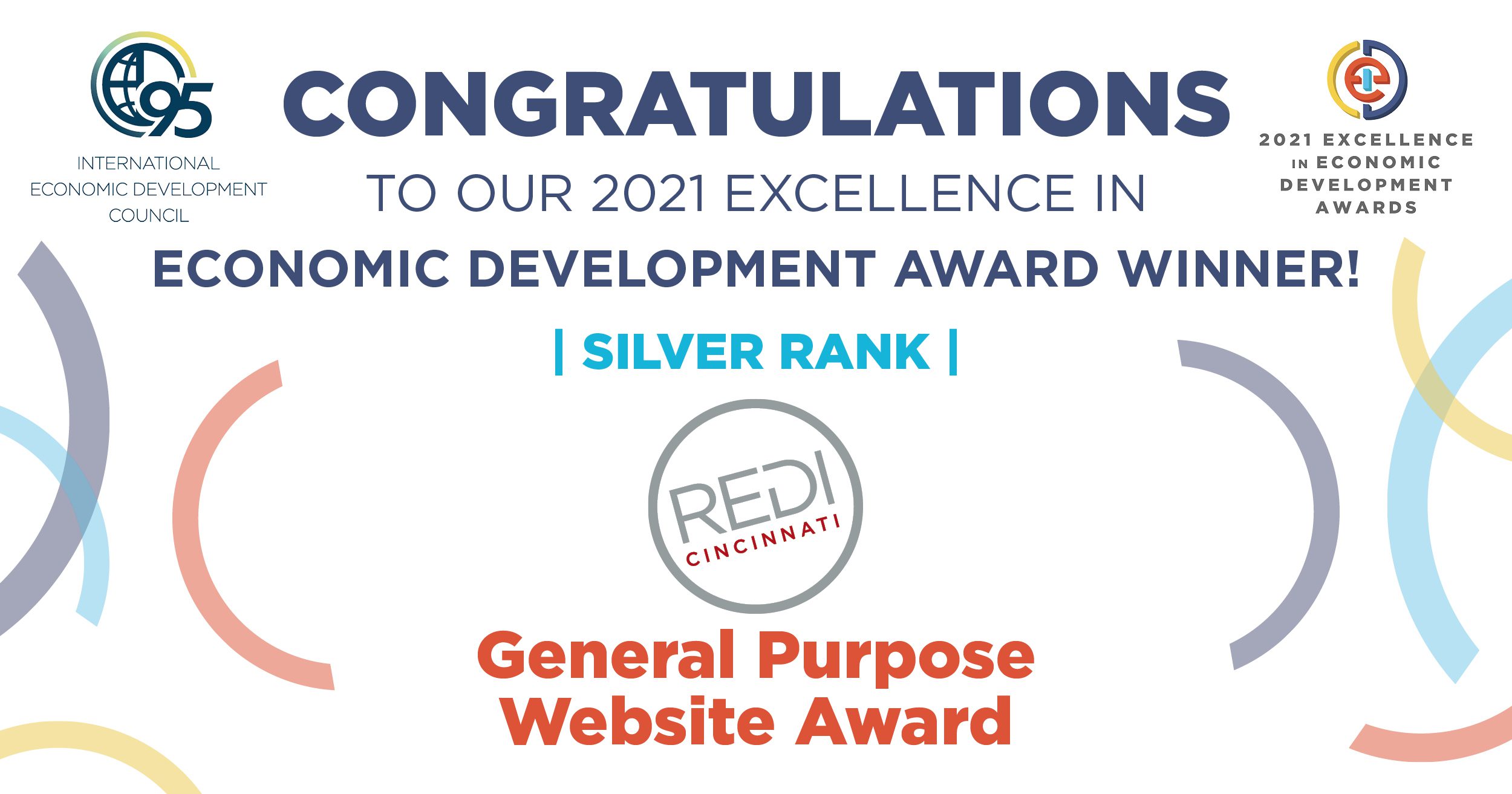 CINCINNATI, OH, OCTOBER 7, 2021 – REDI Cincinnati won a Silver Rank for its project REDI Cincinnati's Website, submitted in the category of General Purpose Website of the International Economic Development Council (IEDC), the largest global organization serving economic developers. The honor was presented Tuesday at an awards ceremony during the IEDC Annual Conference.
"In 2019, we discussed revamping REDI Cincinnati's website to highlight the resources, sites, and partnerships that businesses need to thrive in the Cincinnati region. To achieve this successfully, we knew we had to address our site navigation, accessibility, content and messaging, and real-time data sourcing," said Gina Rittinger, Vice President of Marketing and Communications at REDI Cincinnati. "Within all these buckets of improvements, we were driving a narrative that speaks directly to job creation in the Cincinnati region, as well as job retention, incentives, resources available, the livability and quality of life here. This website redesign not only inspired our team to collaborate and revise our messaging – but it also inspired our region's amplifier and livability partner, Cincinnati Experience, to revamp their website as well," said Rittinger.
IEDC's Excellence in Economic Development Awards recognize the world's best economic development programs and partnerships, marketing materials, and the year's most influential leaders. The 25 award categories honor organizations and individuals for their efforts in creating positive change in urban, suburban, and rural communities. Awards are judged by a diverse panel of economic and community developers, following a nomination process held earlier this year. IEDC received over 500 submissions from four countries.
REDI Cincinnati's website project has been extremely effective in furthering economic development in the Cincinnati region. Each month since the website launched, the organization has seen more sessions than the previous period. Since November 2020, sessions were 2-3x higher than the previous period. In addition, pageviews have doubled since the launch. The site has had visitors from all 50 states (plus Washington DC). Outside of Ohio, the states of New York, Virginia, and California have generated the most site traffic. Our Industry pages are among the most popular pages since the site launched, with Advanced Manufacturing seeing the most sessions. Conversions have nearly doubled and contact forms have tripled over this time period.
"The winners of IEDC's Excellence in Economic Development awards represent the best of economic development and exemplify the leadership that our profession strives for every day," said 2021 IEDC Board Chair and Invest Buffalo Niagara, President, and CEO Tom Kucharski. "We're honored to recognize the more than 100 communities whose marketing submissions, projects, and partnerships have improved regional quality of life."
IEDC went on to say that it is incredibly honored to recognize the outstanding organizations that received this year's Excellence Awards. This year, more than ever, has presented opportunities to innovate, impact, and progress the cities, neighborhoods, and communities around us. Each of this year's recipients represents the best of the economic development profession and exemplifies the ingenuity for fellow economic developers to aspire to in the years to come.
The 2021 Award winners can be found here.
About the International Economic Development Council 
The International Economic Development Council (IEDC) is a non-profit, non-partisan membership organization serving economic developers. With more than 5,000 members, IEDC is the largest organization of its kind. Economic developers promote economic well-being and quality of life for their communities by creating, retaining, and expanding jobs that facilitate growth, enhance wealth and provide a stable tax base. From public to private, rural to urban, and local to international, IEDC's members engage in the full range of economic development experiences. Given the breadth of economic development work, our members are employed in various settings, including local, state, provincial, and federal governments, public-private partnerships, chambers of commerce, universities, and a variety of other institutions. When we succeed, our members create high-quality jobs, develop vibrant communities, and improve the quality of life in their regions. Learn more at iedconline.org.
The Regional Economic Development Initiative (REDI) Cincinnati is the first point-of-contact for companies locating or growing in the 16-county region at the heart of southwest Ohio, northern Kentucky, and southeast Indiana. REDI Cincinnati is supported by top business leaders and community partners and staffed by a team of economic development experts who are uniting the Cincinnati region to compete globally.
The future is bright, and we're building it, right now. Join us at REDICincinnati.com.