Meet the team behind the mission: Q&A with Gina Rittinger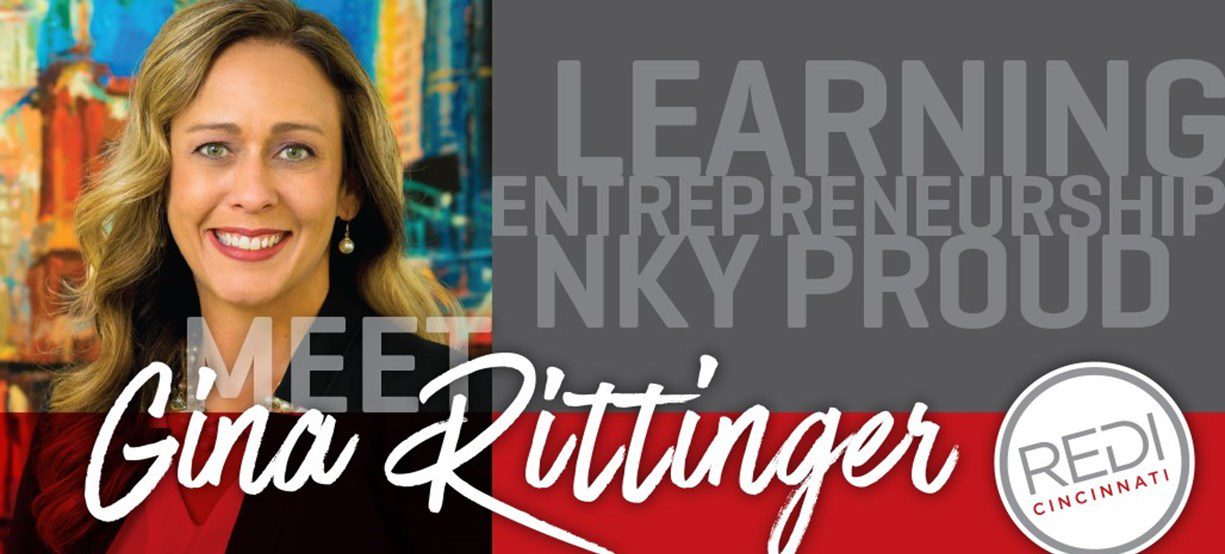 In our mission to recruit companies and grow jobs, the REDI Cincinnati team amplifies the region's unique story to national and international audiences. This series flips the microphone for a look at what makes these passionate economic development professionals tick — and what they love most about living and working in the Cincinnati region.
REDI Cincinnati's VP of Marketing and Strategic Communications has more than 20 years of experience as a marketer, strategist and advisor. But her experience isn't strictly in the economic development space. She has deep ties in higher education and global business — a fact that could be her greatest strength in this professional chapter. 
Gina Rittinger, who most recently served as AVP of Marketing and Communications at Northern Kentucky University (NKU), comes from a long line of Northern Kentuckians. Her grandfather drove for the Transit Authority of Northern Kentucky, and she now serves on TANK's board of directors. Some of her favorite memories were made on horseback throughout Kentucky, Ohio and Indiana, exploring the region's rural trails and green spaces. She credits that perspective with a desire to work collaboratively and bring the rich, complex story of Greater Cincinnati to a wider audience. 
"I was born and raised in this region, and I will always choose to live here because it truly has so much to offer," says the proud NKU graduate, who for many years coached her sons' soccer teams. "The things that are important to me personally — being part of a team, working together toward common goals, taking care of each other — are important in my professional life, too." 
What first attracted you to economic development and REDI Cincinnati?
Working in global B2B marketing, I learned it's less about 'selling' a product and more about developing and nurturing relationships with partners who will help drive the brand into consumers' homes.
When I made the shift to higher education and began promoting academic programs to prospective students, my focus changed to enrolling and graduating more students. When NKU President Ashish Vaidya joined the university, he emphasized the importance of advancing student success aligned with the needs of the region. It was then that I began to think about the need to develop a stronger talent pipeline for the future success of our region and ensure the upward mobility of our graduates. I was drawn to REDI's mission to connect businesses to the resources they need to thrive because I want to see our economy and our communities continue to grow and prosper. I couldn't imagine a better way to help than by spreading the message that we've got incredible talent — plus a lot more — in this region. 
In what ways is this a departure from your past career experiences?
At General Cable, I discovered a passion for manufacturing as well as talent acquisition and development, and while I loved my time in the global wire and cable industry, it was sometimes difficult to see the direct impact in people's lives. With the REDI Cincinnati mission, the impact is clear; we are the connectors, the ambassadors and the stewards of place. We help shape the tangible opportunities unfolding across the region.
What is your favorite thing about living and working in Greater Cincinnati?
First and foremost, the proximity we have to all the different landscapes is fantastic, be it quiet, serene countryside, phenomenal entertainment districts, a major metropolitan area or the short drives to other exciting cities. I often think about a former employee from Mexico who came here and immediately fell in love with our green hills and the incredible cost of living; but more than anything, he was astounded by how people go out of their way to help you make connections. It was a point of pride for me to hear him talk about how people here are so kind and so generous with their time, resources and mentorship. To see my home through his eyes was a reminder of how beautiful, vibrant and energizing the Greater Cincinnati region is. And for anyone with an entrepreneurial spirit, especially, there's no better place to be.
What most excites you about this phase in your career?
Those who know me well know I am innately curious about everything and a problem solver. I'm excited about getting in the trenches with my teammates to better understand their challenges and partner with them to figure out what tools they need to tackle the crucial work they're doing to grow the region. Building on the REDI narrative and continuing to tell the story about why businesses should choose to develop or expand here is important. How do we do that for a local, national and international audience? That's a really exciting challenge. I've seen it in action; when a past company was acquired by an Italian firm, those leaders could have made the decision to leave, but instead they chose to keep a headquarters here. And it wasn't just because of our fantastic airport or the affordable cost of living. There's much more at stake and much more to offer. Personally, I look forward to the chance to help more leaders come to this realization about the 16-country Tristate region we serve.