Lebanon-based automotive manufacturer earns recognition for recent expansion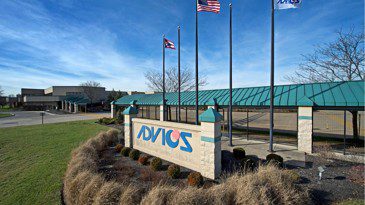 Growth is nothing new to the Lebanon-based ADVICS Manufacturing Ohio, Inc., and its most recent expansion earned it recognition from local economic developers.
On May 3, ADVICS earned a Growth Award from the Regional Economic Development Initiative (REDI) Cincinnati. Based on feedback from a panel of local economic development practitioners, ADVICS was named as one of four winners. Other Growth Award winners include Aprecia Pharmaceuticals, Barclaycard US and Robert Bosch Automotive Steering. These four projects were selected from more than 190 completed throughout the three-state, 16-county Cincinnati region in 2015.
ADVICS's first large expansion happened in 1996, when it added an anti-lock braking (ABS) unit production line. In 2015, ADVICS was ready to expand again. Since the 2006 expansion, vehicle safety standards continued to improve and a new generation of braking systems developed. Brake production started at the parent company in Japan, and is now moving to the Lebanon facility.
"When considering where to expand, the must-haves were the same as when we first launched," said Ron Lipps, ADVICS president & CEO. "The location needed to support our new operation with an educated workforce, available technical talent and technical schools to train our new and current team members on new technologies."
After a worldwide search, ADVICS chose to expand its current Cincinnati location because of the strong team already in place in Lebanon and the pipeline of talented workers the company found in the region.
"Our Lebanon location benefits from drawing resources from both the Cincinnati region and Dayton areas," said Lipps. "Excellent schools, well-educated workforce, very capable local supply base and a business-friendly environment were considered when making our decision."
The growth means reinvestment in the City of Lebanon as well.
"The City greatly appreciates our partnership with ADVICS, and its continued success is significant to the Lebanon community and the region," said Jason Millard, economic development director for the City of Lebanon. "ADVICS growth and investment in the Lebanon facility is a reflection of the company's commitment to the quality of its products."
ADVICS and its fellow winners were recognized during a ceremony at the Duke Energy Convention Center on May 3.