Four Regional Companies Take Home REDI's 2017 James A. Wuenker Growth Award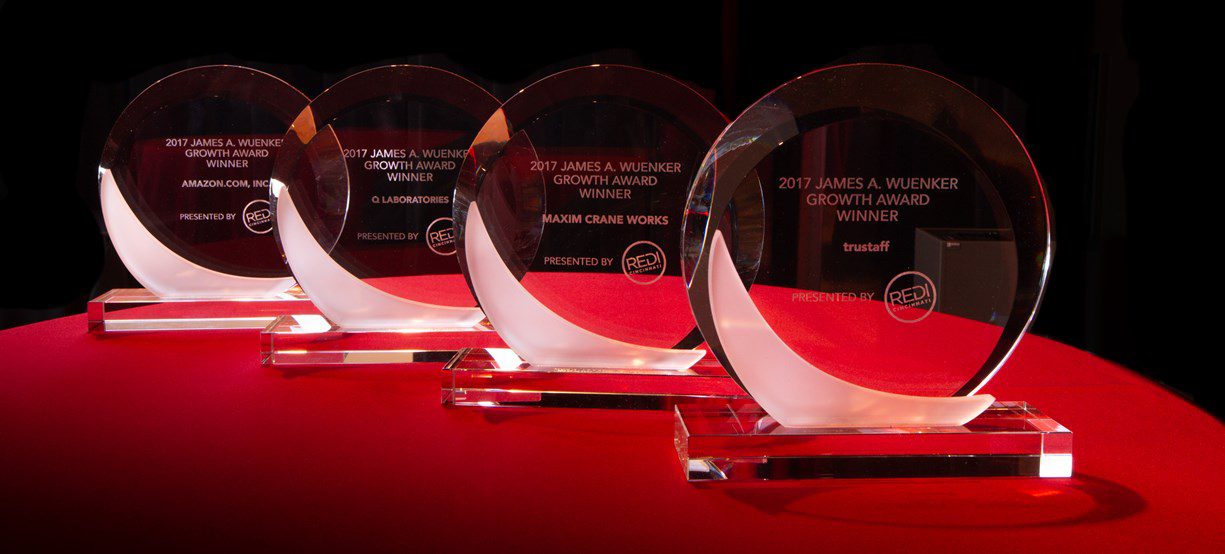 In 2016, REDI Cincinnati created the James A. Wuenker Growth Awards to honor the economic developer who helped drive large projects that continue to anchor the regional business community. Each year at its annual meeting, REDI Cincinnati presents the award to local companies who have announced a growth project in the prior year. Nominations are submitted by their local economic development entity as having made significant impact on job growth and capital investment throughout the region.
At its annual meeting April 19 at Music Hall, REDI Cincinnati extended the James A. Wuenker Growth Award to the following recipients: Q Laboratories, Maxim Crane Works, trustaff, and Amazon.com. Combined, these companies created 1,950 new jobs, retained 2,610 more positions and contributed a staggering $2 billion in total capital investment to the three-state, 15-county Greater Cincinnati region.
"We continue to be proud to pay tribute to Jim Wuenker and his development legacy with this award named in his honor," said REDI Vice President of Business Development and Project Management Kimm Lauterbach, who presented the awards. "In February, a 10-member Growth Award selection committee met for the difficult job of picking just four projects out of the 86 submitted."
Read below for more on the exciting growth and impact these four companies had in the Greater Cincinnati region in 2017.
JobsOhio Grants Help Q Labs Keep Consumers Safe
Ziegelmeyer Photography
Since starting in the founder's basement in 1966, Q Laboratories has grown into a federally certified testing and quality assurance lab that combines state-of-the-art technology with personal service and attention, testing a broad range of products from food manufacturers to pharmaceutical companies.
Amid accelerated growth, Q Laboratories began seeking new real estate opportunities to accommodate their growing workforce. After researching multiple locations, they ultimately chose to seek help from REDI Cincinnati in securing two grants from JobsOhio that would enable the company to expand its East Price Hill location, invest $4.5M in high-tech lab equipment and add 90 jobs. The new hires consist mostly of scientists with starting salaries ranging from $40,000 to $60,000 annually, according to Q Laboratories director of business development Mark Goins.
"The Q Laboratories team is just one of the many makers and innovators creating real change in our region," said Lauterbach. "They combine our legacy expertise in food, pharmaceuticals, and personal care with today's cutting-edge testing technology to keep consumers safe."
Q Labs in 2017
–    90 New Jobs
–    130 Jobs Retained
–    $4.5M Capital Investment
Maxim Crane Commits to Expanding Locally
Ziegelmeyer Photography
Maxim Crane Works combines the strength of more than a dozen crane companies with a rich family history, serving as a one-stop-shop for clients seeking management services, transportation, risk management, safety and insurance program, and a range of other project needs related to efficient crane rentals.
The company has nearly tripled in size over the last three years, prompting the search last year for a new space that would centralize their executive offices and position the company to meet long-term growth needs. In March, Maxim Crane Works held a ribbon-cutting to celebrate the completion of a nearly $5 million, 17,000-square-foot corporate office expansion at the company's existing headquarters in Wilder, KY, a move that came as a result of its leadership's commitment to its local employees.
"Maxim Crane Works has been a steady corporate partner in Kentucky for more than 80 years, and this latest investment showcases even further commitment to the commonwealth," Kentucky Governor Matt Bevin said last spring. "Maxim Crane is a powerful name within its industry, and we are proud the company continues to strengthen its presence in our state. Congratulations to the company, the community of Wilder and the Northern Kentucky region on this incredible new endeavor."
Maxim Crane in 2017
–    100 New Jobs
–    80 Jobs Retained
–    $4.7M Capital Investment
trustaff Finds Room to Grow in Blue Ash
Ziegelmeyer Photography
With specialization in nursing and other healthcare professions, trustaff manages recruitment and staffing across all industries, all across the nation. With help from REDI Cincinnati, the company recently expanded its Blue Ash facilities, a move that was critical to maintaining its position as the fifth-largest travel-nursing company in the United States.
Having outgrown their prior space, trustaff polled its employees enjoyed their central Blue Ash location. They ultimately chose to move just two miles north, where they were able to customize their design for room to grow and features that include an onsite Zen room with masseuse, game room and other amenities to offer the best possible environment for their team.
"Expanding in Blue Ash enabled us to further cater to our employees," said trustaff Marketing Director Andy Hartman. "We have been able to maintain a positive environment through an inclusive polling process, and even through the fast growth we're experiencing, this new location allows the trustaff team to continue operating like a family, which is very important to us."
trustaff in 2017
–    160 New Jobs
–    300 Jobs Retained
–    $17M Capital Investment
Amazon Expands at CVG and Monroe
Ziegelmeyer Photography
As a global business and delivery leader, Amazon is constantly seeking to optimize their fulfillment network to better serve customers. As a result, the Greater Cincinnati region enjoys a partnership with Amazon that has been rapidly expanding.
In 2017, Amazon announced its Prime Air hub at Greater Cincinnati-Northern Kentucky International Airport (CVG). At the same time, on the Ohio side of the river in 2017, Amazon created 1,000 full-time positions at its newly announced fulfillment center in Monroe, Ohio.
"We are proud of our regional partnership with Amazon and this award reflects their investment on both sides of the Ohio River," said Lauterbach. "The decision to invest at these two sites has been a result of Amazon's incredible growth and the outstanding workforce available in our region."
Amazon.com in 2017
–    2,700 New Jobs (KY)
–    1,000 New Jobs (OH)
–    $54.78M New Payroll
–    $1.52B Capital Investment