Cincinnati State, GE team up to grow additive manufacturing jobs in Southwest Ohio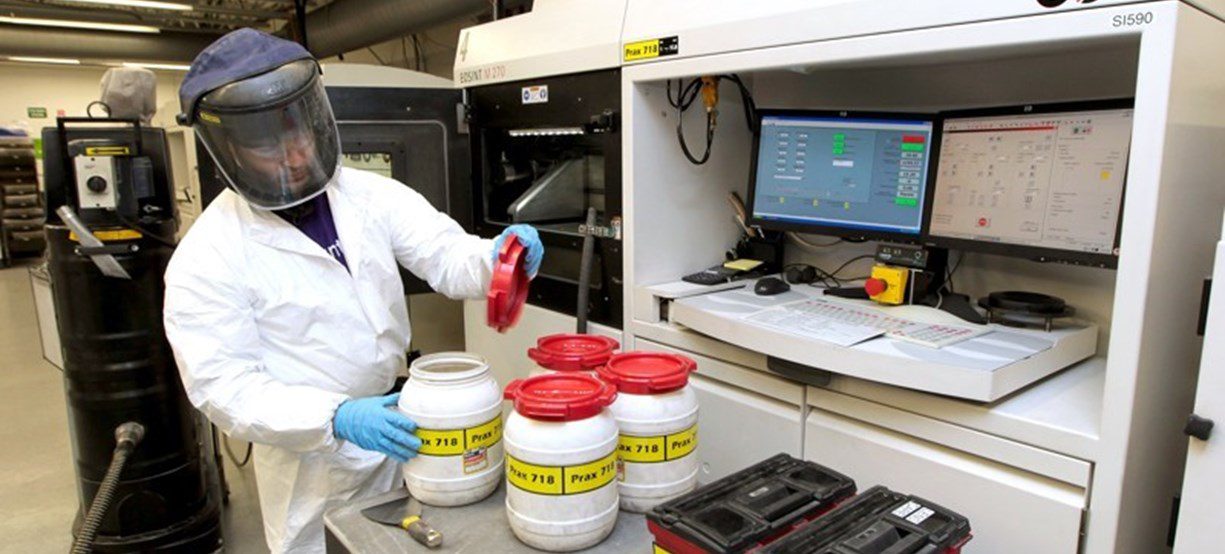 Two powerful organizations — GE Additive and Cincinnati State Technical and Community College — joined forces to grow the employment base in the additive industry. 
Relying on a $393,000 grant from the federally-funded LIFT Institute and guidance from GE experts, the Workforce Development Center at Cincinnati State created a certificate program for additive manufacturing technicians.
Cincinnati State is also leveraging $3.5 million in federal and state funding to forge a pathway for new students and incumbent workers to earn advanced degrees in technology.
"As additive manufacturing continues to grow, so will the need for skilled workers who are familiar with and trained in the technology," said Mohammad Ehteshami, vice president and general manager for GE Additive. "As the leader in additive manufacturing, GE Additive is proud to partner with Cincinnati State in developing curriculum for the next generation of employees."
The global 3D printing industry is expected to grow to $21 billion by 2020 — a $4.1 billion increase from 2014 — and demand is enormous. Currently, nine out of 10 manufacturers struggle to meet skilled worker needs.
The new certificate program is part of ongoing collaborative efforts between area educators, governments, nonprofits and corporations to grow jobs and position southwest Ohio as a leader in additive and advanced manufacturing. In addition:
Cincinnati State will host a first-of-its-kind Additive Technology Business Symposium on Oct. 5 at GE Additive; attendees can register online or call (513) 569-1497 for more information.
JobsOhio granted $500,000 to the Village of Evendale to help develop a proposed 240-acre advanced manufacturing accelerator along Interstate 75.
A new Technical Advisory Committee has been formed of representatives from GE Additive, Cincinnati State, P&G, Techsolve, the University of Cincinnati, JobsOhio, REDI Cincinnati and other organizations to promote the region's additive industry.
Outlining those efforts, Cincinnati State president Dr. Monica Posey said, "Cincinnati State has great expertise creating education programs, but collaboration with industry partners such as GE Additive is essential to addressing current and future workforce needs. Effective collaboration is also essential to making our region competitive, especially in a rapidly evolving industry such as additive manufacturing."
GE Additive created the first 3D-printed engine part — a fuel nozzle that once required 20 different parts to build, but now is one part that is 25 percent lighter — and acquired two major 3D printer manufacturers in the past year. The division, now one year old with offerings representing 20 years of additive manufacturing technology and equipment, has fast risen to lead the field, with planned revenues of $1 billion by 2020.
"Our region is proud to have education and workforce partners like Cincinnati State working so proactively with corporate and public leaders like GE, JobsOhio and Evendale to make additive advanced manufacturing a top priority for our region," said Josh Wice, vice president of operations and strategic resources at REDI Cincinnati. "This is an exciting industry with tremendous growth potential on a global scale."
REDI Cincinnati's ongoing Future-Proof Careers series explores efforts by some of Greater Cincinnati's foremost educators, lawmakers, nonprofit professionals and business leaders to widen the talent pool for careers in modern advanced manufacturing.