Automotive Supplier Announces Major Expansion in the Cincinnati Region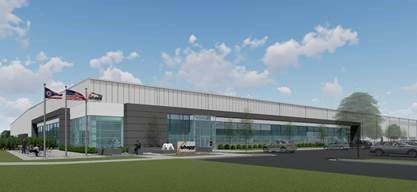 CINCINNATI, OHIO – MAY 24, 2021 – Shape Corp., a tier-one automotive supplier specializing in impact energy management and lightweight body structures and headquartered in Grand Haven, Michigan, announced plans to expand their aluminum division, Magnode LLC, with a new facility in Trenton, Ohio. This expansion in operations will lead to the creation of 171 new jobs and an investment of $41 million. The new facility will include manufacturing, inspection, and testing, and primarily focus on Shape's aluminum extrusion and post extrusion business.
"We are beyond excited to further enrich our aluminum capabilities and working environment for our team members with Shape's new facility in Trenton," said Mark Butterfield, Shape's aluminum division managing director. "Our growth in the automotive industry is driving significant opportunities to innovate for our customers, which will be optimized by the assets in the new space."
The company decided to expand in Trenton to maintain proximity to its existing facility, the rich local talent base, and the strong infrastructure in the region. Growth in the automotive market, particularly in electric vehicle sales, is fueling Shape's decision to expand.
"Magnode/Shape Corp. has been a substantial business and contributor in Trenton for more than 60 years, and we look forward to their continued presence in our community for at least 60 more as they further their expansion in the aluminum industry," said Trenton City Manager Marcos Nichols. "In addition, we are excited that their new 50 Acre site is the first purchase in our 200 Acre Phase II Trenton Industrial Park."
Shape built upon its aluminum capabilities in 2018 by acquiring the Trenton aluminum extruder, Magnode, which was founded in 1947.
"Our Trenton facility's experience in tight tolerance aluminum extrusion was just the right expertise we needed to expand our lightweight product and process portfolio beyond ultra-high strength steel roll forming, thermoplastic injection molding and composite pultrusion," said Mark White, Shape president & CEO. "Increasing our aluminum footprint will enable us to further share our unique capabilities with our customers around the world."
"Electric vehicle sales are projected to grow by 70% in 2021 alone, and Magnode is positioning the Cincinnati region to play a role in that growth," said Kimm Lauterbach, REDI Cincinnati president and CEO. "Magnode and Sharp's latest investment is a testament to the strength of the Cincinnati region's talent and validates the work done by the City of Trenton and Butler County to prime the site for industrial use. The support of the Ohio Development Services Agency and JobsOhio was also vital to making this project a success."
Today's announcement will support Shape's vision to enhance its aluminum capabilities and plays a significant role in the company's global growth. The location of the investment is a greenfield site that will allow Shape to double its existing capacity and still have room for future expansion. The new building, a 320,000-square-foot facility built on approximately 50 acres, anticipates construction to be completed in 2022, with the entire expansion expected to finish in 2025. SSOE Group has been selected as the builder for the project. With this expansion, the company will be hiring for all roles within the organization, including administrative, technical, non-technical, and floor positions.
The City of Trenton and Butler County are working with Magnode to finalize details of the project. The State of Ohio is supporting Magnode's growth with a Job Creation Tax Credit from the Ohio Development Services Agency, JobsOhio plans to provide assistance to the project, which will be made public after a final agreement is executed.
About Shape Corp.
Shape Corp. is a global leader in multi-material impact energy management and lightweight body structures utilizing the very best in ultra-high-strength steel roll forming, tight tolerance aluminum extrusions and large tonnage injection molding. Shape serves an array of industries including automotive, office furniture, medical, agriculture and more. Founded in 1974, the company employees more than 4,500 associates and remains a privately owned, family company with 17 facilities worldwide allowing Shape to provide service to customers in North America, Europe, and Asia.
About JobsOhio
JobsOhio is a private nonprofit economic development corporation designed to drive job creation and new capital investment in Ohio through business attraction, retention, and expansion. The organization also works to seed talent production in its targeted industries and to attract talent to Ohio through Find Your Ohio. JobsOhio works with six regional partners across Ohio: Dayton Development Coalition, Ohio Southeast Economic Development, One Columbus, REDI Cincinnati, Regional Growth Partnership, and Team NEO. Learn more at www.jobsohio.com. Follow us on LinkedIn, Twitter, and Facebook.
About REDI Cincinnati
The Regional Economic Development Initiative (REDI) Cincinnati is the first point-of-contact for companies locating or growing in the 16-county region at the heart of southwest Ohio, northern Kentucky, and southeast Indiana. REDI Cincinnati is supported by top business leaders and community partners and staffed by a team of economic development experts who are uniting the Cincinnati region to compete globally.
The future is bright, and we're building it, right now.