80 Acres Farms to create 125 new jobs and invest $26.9M+ at Hamilton headquarters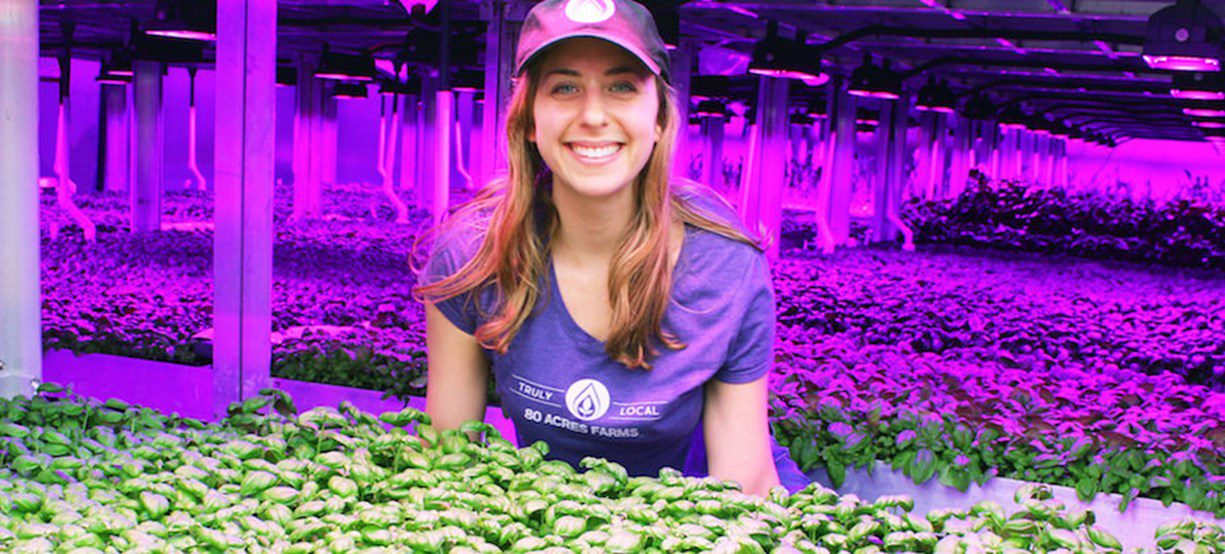 Having been touted as the future of local food, 80 Acres Farms is on its way to becoming a household name. The company has secured a significant investment from a San Francisco private equity firm to carry out planned phases for continued expansion of  its operations in the city of Hamilton. 
80 Acres Farms is on its way to becoming a household name, having been touted as the future of local food and securing significant investment from a San Francisco private equity firm. The company derives its name from its ability to grow 80 acres worth of food in a ¼ of an acre space, all starting in its original location in Cincinnati. Their vision is to establish year-round indoor farming operations in major cities around the world growing more nutritious produce.  Their closed-loop, modular systems grow produce more sustainably and their proximity to consumer locations dramatically decreases the distance produce must travel, thereby increasing shelf life and more importantly taste. 
"It is truly exciting to see 80 Acres expanding their agriculture operations within the Greater Cincinnati region," said Kimm Lauterbach, REDI Cincinnati President and CEO. "Hamilton continues to be the perfect home for 80 Acres, given the company's commitment to social responsibility, year-round sustainable farming, and innovative automation. We look forward to seeing them continue to thrive and contribute to the economic development of Hamilton." 
Hamilton has become home base for 80 Acres. The company began renovations on the former Miami Motor Company building on South 2nd Street in early 2017, with plans to create 30,000 square feet of office and food production space downtown. In September 2018, they broke ground on the first phase of their Hamilton Enterprise Park facility. Upon completion in early summer 2019, the location will become the country's first fully automated indoor farm. Most recently, the company has moved its corporate headquarters, as well as 15 employees, to newly renovated office space in downtown Hamilton. The company's total planned investment in Hamilton is in excess of $26.9 million. 
"Hamilton is a rising community looking for diversified growth and is strategically located near multiple large population centers. Sustainability continues to be an essential part of our business, and Hamilton's commitment to emissions-free, renewable energy through hydropower was also an important component in our decision to become an even bigger part of the Hamilton community." said Mike Zelkind, Cofounder and CEO of 80 Acres Farms. 
Phase I of 80 Acres' Hamilton Enterprise Park facility is nearing completion and started growing its first crop in late March of this year. Future phases will add around 150,000 square feet of controlled environmental agriculture (CEA) space. This space will allow 80 Acres to dramatically increase distribution with its growing list of retail and food service partners, which includes Whole Foods, Jungle Jim's, Dorothy Lane Markets and Green Bean Delivery. 80 Acres is growing vine crops in its renovated location on South 2nd Street and has started harvesting the first crops in April.
"We are excited that 80 Acres Farms has chosen to establish its headquarters in Hamilton, where it will create 125 new jobs," said Dana Saucier, JobsOhio vice president and head of economic development. "80 Acres hydroponic urban farming is advancing efficiencies in the production and distribution of fresh produce year-round, and we are proud it calls Ohio home."  
Hamilton Mayor Pat Moeller is excited to see what the future holds for 80 Acres. "80 Acres Farms declaring Hamilton as its home base is historic for both the company and for the City of Hamilton," he said. "This company is changing the face of agriculture, and will be a magnet to attract other innovative companies to our community. We are proud and honored that they chose to locate their headquarters in Hamilton." 
"80 Acres' decision to call Hamilton home is catalytic for three reasons," said Hamilton City Manager Joshua Smith. "First, they will soon be one of our largest utility customers. Second, their presence in Hamilton is attracting interest from other innovative companies. And third, their multiple locations throughout the city will have a positive impact on local businesses." 
As a result of committing to creating 125 new jobs and investing $26.9M, the Ohio Tax Credit Authority approved a Job Creation Tax Credit for the project for 1.647% over eight years. For more information, contact Rebecca Haders, Vice President of Marketing and Creative, at (513) 910-9089 Rebecca.Haders@eafarms.com. 
About 80 Acres Farms 
80 Acres Farms is focused on being the best operator in the world of indoor farming facilities that achieve the highest quality and consistency of year-round produce. Its extensive produce growing, food manufacturing, marketing and distribution experience, and mastery of automation drives continuous high-quality production and operational efficiency leading to improved unit economics. Utilizing state of the art proprietary technologies, including modular grow zones, customized LED lighting, precisely-tuned climate controls, and an artificial intelligence powered growing system, the Company is able to offer customers flavorful, and nutritious locally grown fruits and vegetables at affordable prices. Based in Cincinnati, Ohio, the company was founded by veteran food industry executives Mike Zelkind and Tisha Livingston who are supported by a deep team and a board of directors representing executive and leadership experience at leading food, healthcare, and other companies.  For more information, visit www.80acresfarms.com.