New study: Greater Cincinnati leads in global shift toward innovation districts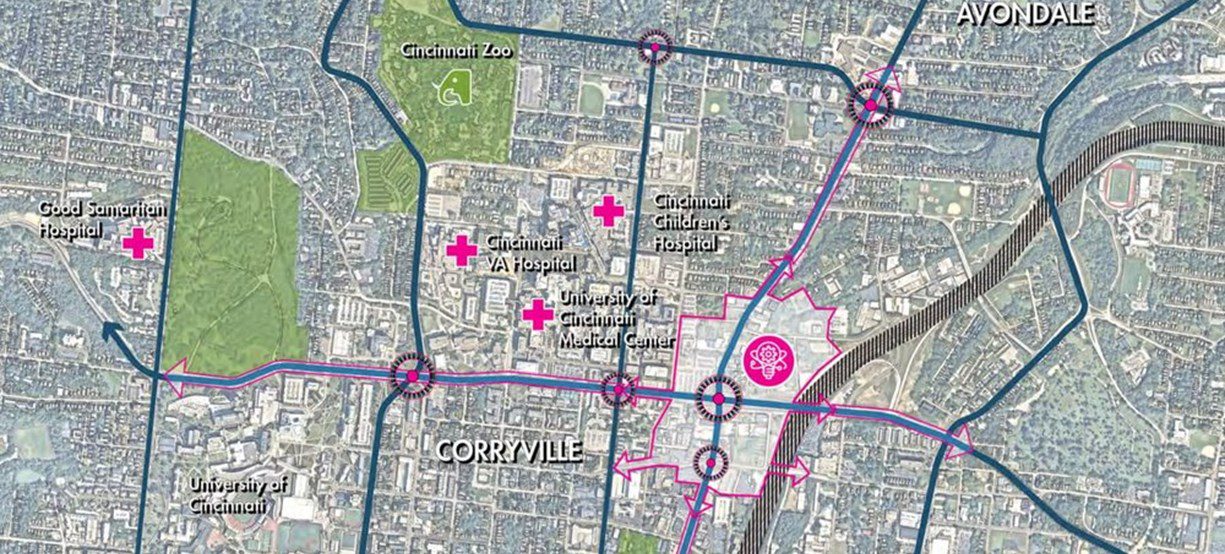 In recent years, there has been a lot of talk about innovation districts—and for good reason. These dedicated urban zones provide the proximity and focused resources that entrepreneurs, educators, developers and business leaders need to work together for the greater good.
But while the world is waking up to their potential, innovation districts are hardly new for Greater Cincinnati. In 2004, leaders from various local sectors came together to form the Uptown Innovation Corridor, a strategic plan for concentrated investment at the intersection of Martin Luther King Drive and I-71, located just one mile north of downtown Cincinnati.
Not long after, a partnership between the University of Cincinnati and Procter & Gamble produced the 1819 Innovation Hub, a mixed-use space for tenants that range from large-scale companies like Cincinnati Bell to smaller startups like Amplify Sciences, whose advanced flu test is capturing seed funding from Cincinnati to San Francisco.
Stories like these offer more evidence that the Uptown Innovation Corridor is making good on its promise to foster what UC Chief Innovation Officer David Adams calls "creative collisions" between research, industry and talent. And now, a new study from Brookings Institution further validates that claim, listing Cincinnati among only 20 U.S. markets and 100 cities worldwide at the forefront of "a new geography of innovation."
In The Evolution of Innovation Districts—a follow up to 2014's The Rise of Innovation Districts—authors and social scientists Bruce Katz, Julie Wagner, and Thomas Osha detail a recent global shift that's uprooting the next-generation innovation long held in isolated corporate campuses (think Silicon Valley) and placing it smack-dab in highly trafficked urban centers like Uptown Cincinnati that are adjacent to housing, office space and retail.
When an innovation district is firing on all cylinders, say the authors, the impact is evident. For starters, its economic, physical, and social networking assets interact to create new synergies—phenomena that's certainly at play in the Uptown Consortium's collaborative mission to aggregate funds for improving pedestrian and bicycle connectivity across the MLK and Reading corridors; stabilizing existing housing and business districts with balanced residential infill and creating a unified and distinctive district-wide brand identity.
Secondly, according to Katz and Wagner, successful innovation districts have strong organizational drivers, particularly in governance and financing. By introducing new collaborative spaces like the 1819 Innovation Hub, enhancing access to capital, and giving entrepreneurs diverse avenues for commercializing their inventions, Greater Cincinnati leaders showcase their commitment to intentionality, setting the stage for long-term future growth and success in the Uptown Innovation Corridor.
And finally, the study states, an innovation district is operating the way it should when it demonstrates inclusivity and an equitable approach to social innovation. Our region began responding more than a decade ago to the serious challenge of building wealth by enabling minority business ownership and entrepreneurialism. The ongoing effects of that investment are evident in activity by groups like MORTAR, who last May moved its nine-week Uptown minority business accelerator program to the 1819 Innovation Hub from its headquarters in nearby Over-the-Rhine—a signal of more good things to come.
As the study further illustrates, the rise of successful innovation districts has the power to advance prosperity on a regional scale, making the Uptown Innovation Corridor another shining example of what our region's signature collaborative spirit can accomplish. Our elected officials, business leaders, education institutions, nonprofit organizations, and local community groups are coming together for continued economic success in Greater Cincinnati—and the world is paying attention.